Sugar Beach, a Viceroy Resort
Personal notes from Centurion Magazine's contributors worldwide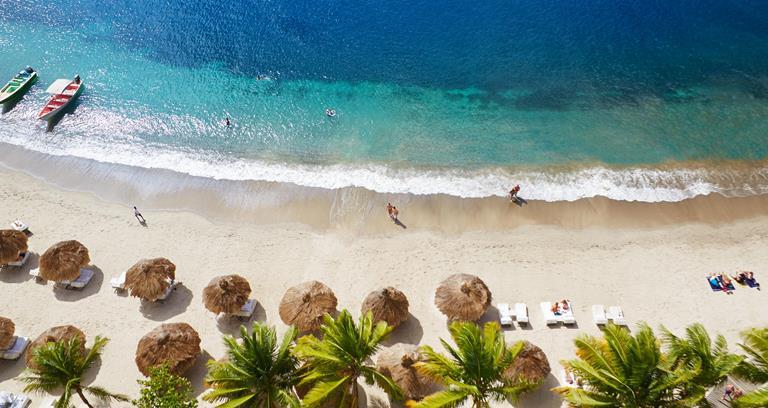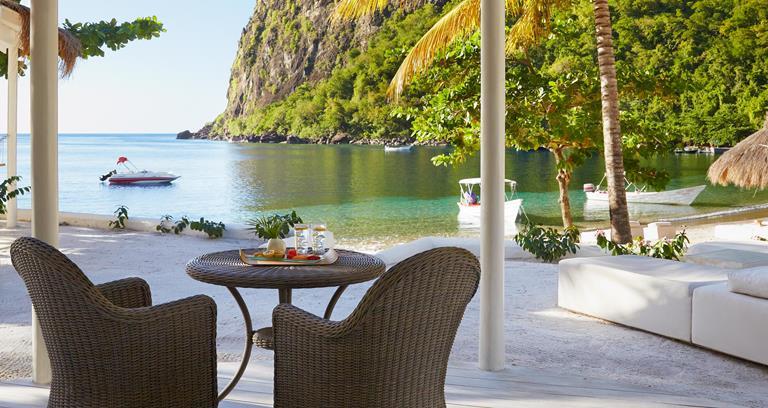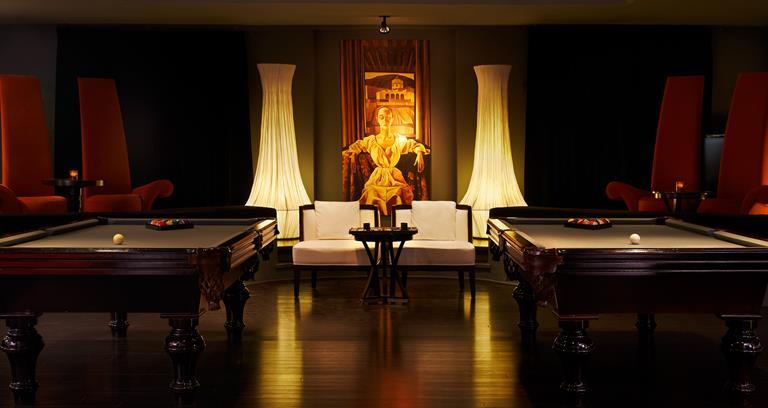 Far too often,words like"dramatic"and "picturesque" are appended extraneously to travel dispatches when such language is either superfluous or just exaggerated. But not here, not as one descends down a steep valley on a series of switchbacks beneath a drenched tropical canopy between – and in the shadow, quite literally, of St Lucia's vertiginous Gros and Petit Pitons. The two lush peaks, guardians and symbols of this verdant West Indies island, loom large and flank a cobalt bay where a crescent of sand shoulders the former Jalousie Plantation, now known as Sugar Beach, a Viceroy Resort.
Gone are the wicker chairs, stuffy oversized furnishings and omnipresent buff colourscape that was predominant previously, replaced by clean, contemporary cabana-style trappings that give the entire property an of-the- moment feel. Accommodations now comprise 59 whitewashed villas – with four-poster beds, freestanding baths and plunge pools – which are done up in clapboard and staggered hillside down theVal des Pitons and onto the seashore, where eight beachfront bungalows have been created. Another 11 revamped rooms,with either sizable terraces or private walled gardens, are steps from the new-look pool complex; but for the ultimate in solitude nothing surpasses the handful of multibedroomed private residences, each with panoramas of the Caribbean and the UNESCO-protected peaks, which frame every view.
The hub of the property is the former plantation house, where public spaces are commodious and colonial in style, with a pair of bars and restaurants that are, like the rest of the food outlets, now helmed by chef Jacques Chretien, whose decades of experience on two continents has brought an energised European sensibility to the resort's culinary offerings. Another highlight is the 859sq m spa, which features seven thatched, treehouse- style gazebos beneath the natural parasol on the valley floor. Connected by raised wooden walkways, they are the perfect setting for an endless list of welcome and restorative treatments that, after the innumerable watersports diversions as well as a multitude of classes (be they aerobics, yoga or Pilates), offer welcome respite – very much like one's arrival at this now rousing coastal retreat.