An Iconic Duo
Cartier's Panthère and Van Cleef & Arpels's Alhambra prove the staying power of exceptional design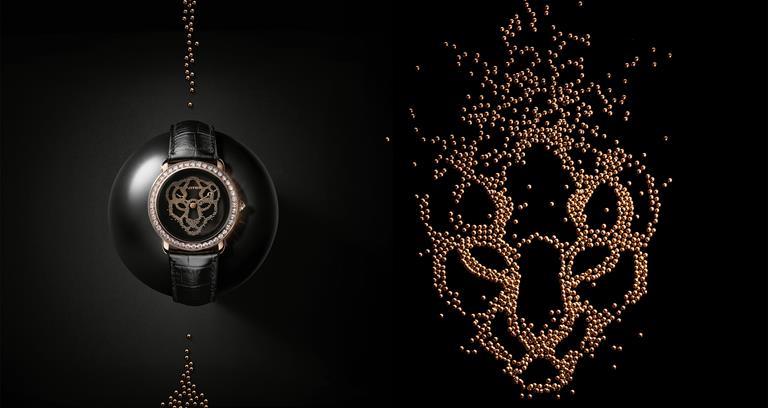 Cartier's Révélation d'une Panthère watch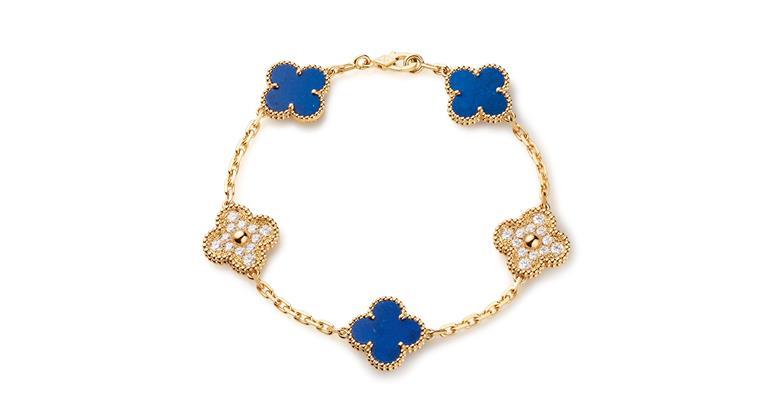 Van Cleef & Arpels's iconic Alhambra design
Design icons are not simply born. They must evolve and remain memorable and recognisable over time to achieve such a lofty status. While Cartier's Panthère and Van Cleef & Arpels's Alhambra, which marks its 50th anniversary this year, may have expressed the aesthetic mood of their moments, they have been continually tweaked and updated over the decades to stay au courant, making them as relevant today as they were when they made their debut in the 20th century – a remarkable feat for two such disparate designs.
Cartier can trace the origin of its popular panther motif to a 1914 jewelled wristwatch set with diamonds and black onyx to evoke the spotted pattern of a big cat's coat. But it wasn't until the bold and free-spirited Jeanne Toussaint, who was nicknamed La Panthère, joined the maison soon after that the fabulous feline became a prominent motif on watches, jewels, vanity cases and other accessories.
Toussaint personally catered to Cartier's high-society patrons, including Barbara Hutton (who favoured tigers) and the Duchess of Windsor, in her private salon at the Rue de la Paix flagship near Place Vendôme. As legendary tastemakers, the Duchess and her husband, the Duke of Windsor, who famously abdicated his crown to marry her, were regular customers. In 1948, the Duke commissioned the first three-dimensional panther jewellery design: a yellow gold and black enamel brooch depicting a sculpted panther with emerald eyes perched on a 90-plus carat emerald cabochon.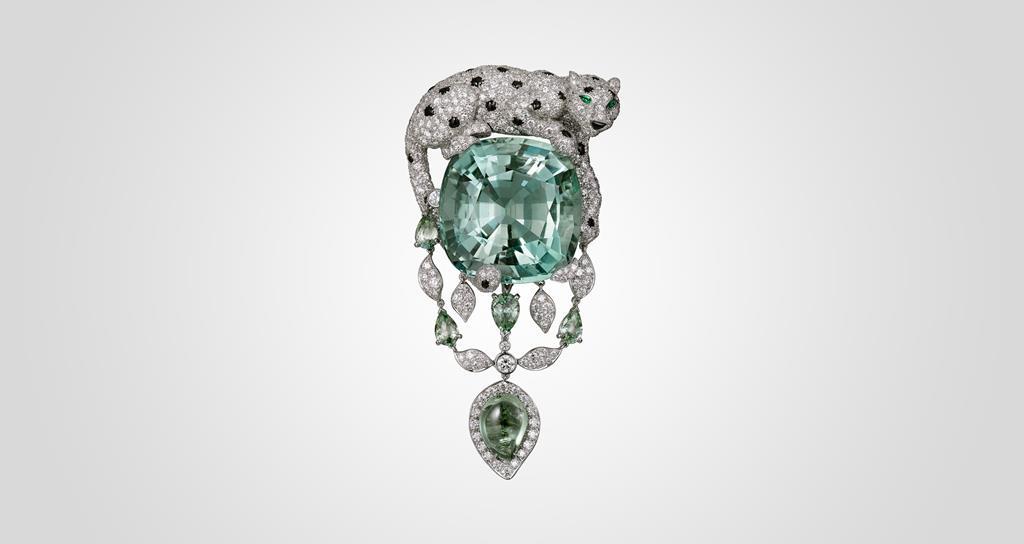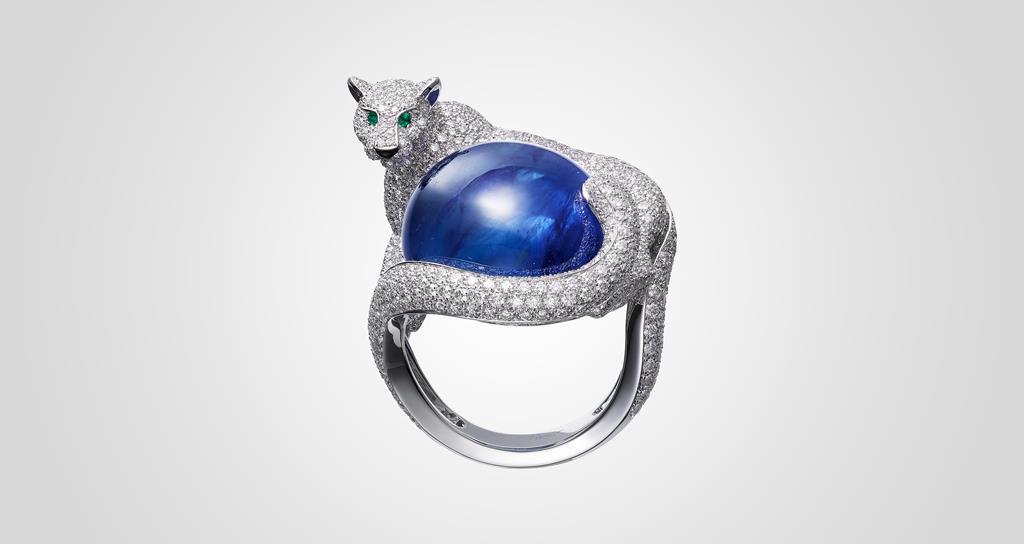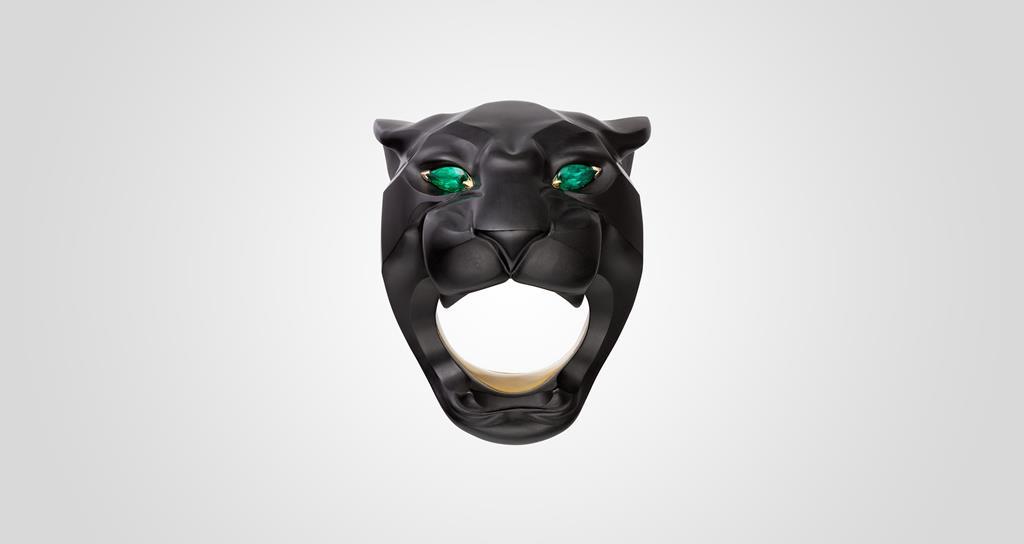 Sleek and elegant, the panther complemented the sensuous Art Deco designs of the day. The modern panther exudes an edgier, bolder character with a more angular profile.
The Duchess was so smitten with the alluring feline that she commissioned another brooch depicting a panther sculpted in platinum and set with pavé diamonds accented with square-cut sapphires, cradling an exceptional 152.35-carat cabochon Kashmir sapphire. In the ensuing years, her big cat collection continued to grow, and in 2014, two of those pieces – a brooch and a bracelet – sold as a set at Christie's for $3.1 million. In a 2010 Sotheby's London sale of the Duchess's jewels, a 1952 diamond and onyx articulated panther bracelet was the showstopper, selling for £4,521,250.
Sleek and elegant, the panther complemented the sensuous Art Deco designs of the day. The modern panther exudes an edgier, bolder character with a more angular profile. As the style of Cartier's panther has evolved over the decades, the brand adopted the cat as its signature motif, adorning everything from jewellery and watches to handbags, sunglasses and silk scarves. This summer, the Panthère de Cartier jewellery collection will be expanded with streamlined rings, bracelets and necklaces accented with sculpted cats, some covered in sparkling white diamonds.
Introduced more than five decades later than the panther, in 1968, Van Cleef & Arpels's Alhambra necklace similarly expressed the aesthetic mood of its day with a long golden chain that harmonised with the flowing fashion silhouettes popular at the time. Yet, through the use of different materials and metals over the years, the distinctive design has become a classic and one of the most recognisable jewellery designs in the world to this day.
The minimalist Alhambra was perfectly suited for the brand's La Boutique, which opened in Paris in 1954 (and in New York, three years later) with a focus on more accessible, fashionable everyday jewellery, in contrast to the opulent high jewels for which Van Cleef & Arpels had become famous.
During the 1960s and 1970s, the Arpels brothers travelled extensively throughout the world – from locales in the Far East, China and India to chic jet-set resorts in Ibiza, the Bahamas and elsewhere. Influences from these destinations made their way into the house's collections with noteworthy designs, such as the Cachemire clips, Osaka pendant, Ibiza clip-pendant and Bahamas bracelet.
The Alhambra's symmetrical, geometric quatrefoil medallions are reminiscent of prevalent motifs in Moorish architecture, as exemplified by the grand Alhambra palace in Granada, Spain, for which the collection is named. But the motif also resembles a four-leaf clover, a symbol of luck, which has been a favourite theme of the maison going back to the 1920s.
To be lucky, you must believe in luck
Jacques Arpels
"To be lucky, you must believe in luck," said Jacques Arpels, the nephew of the jeweller's founder, Estelle Arpels, and her husband, Alfred Van Cleef. Throughout the jeweller's historic and current collections, there are a number of lucky talismans, such as fairies, unicorns, ladybirds and, of course, four-leaf clovers.
"Even though it was created at the end of the 1960s, Alhambra really epitomised the 1970s," says Catherine Cariou, heritage director at Van Cleef & Arpels. "You see the colour combinations of the 1970s, the hippy chic trend from the 1970s, and the sautoir, the long necklace. For me, it is the most important and famous jewel of the 1970s."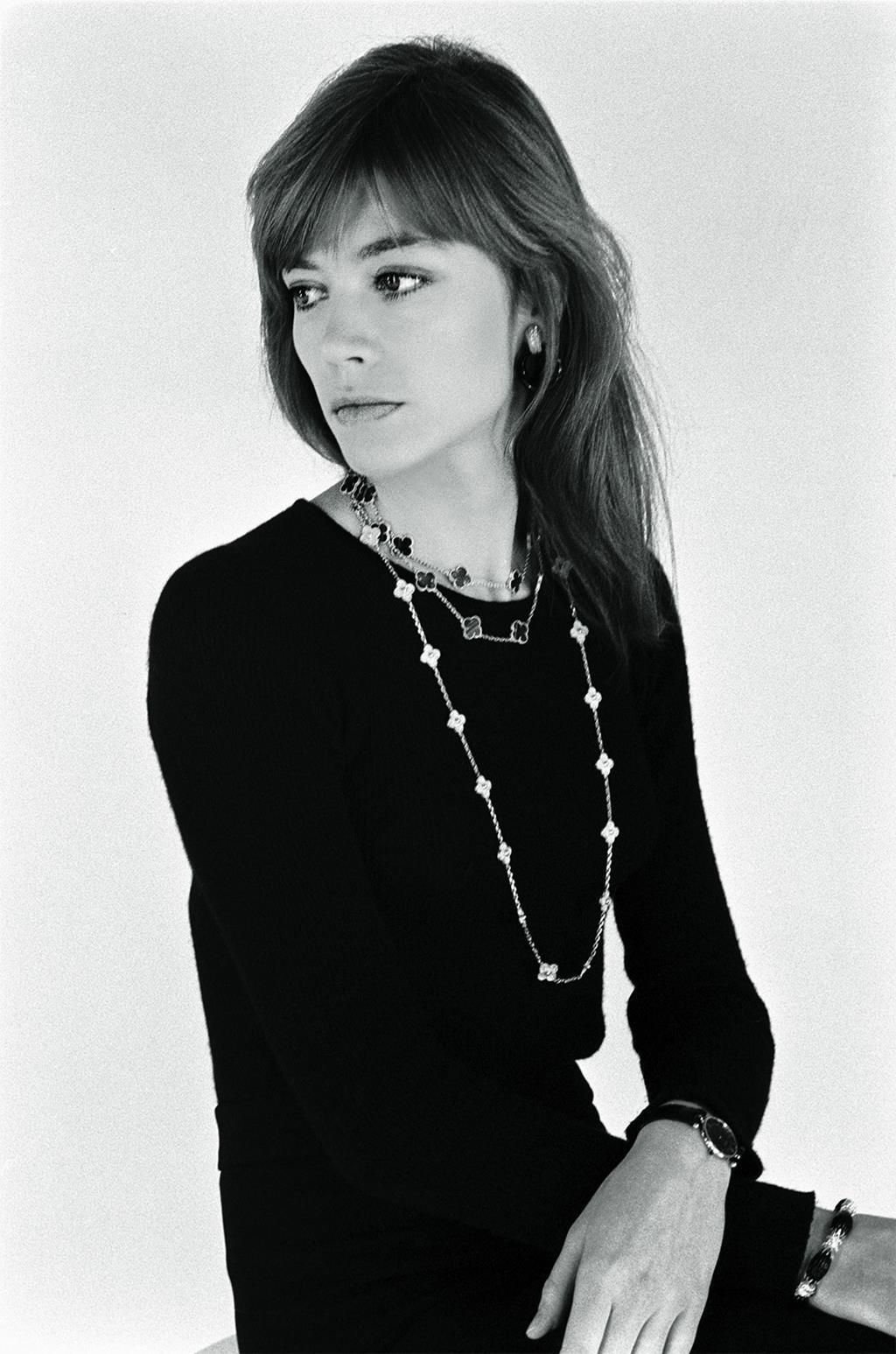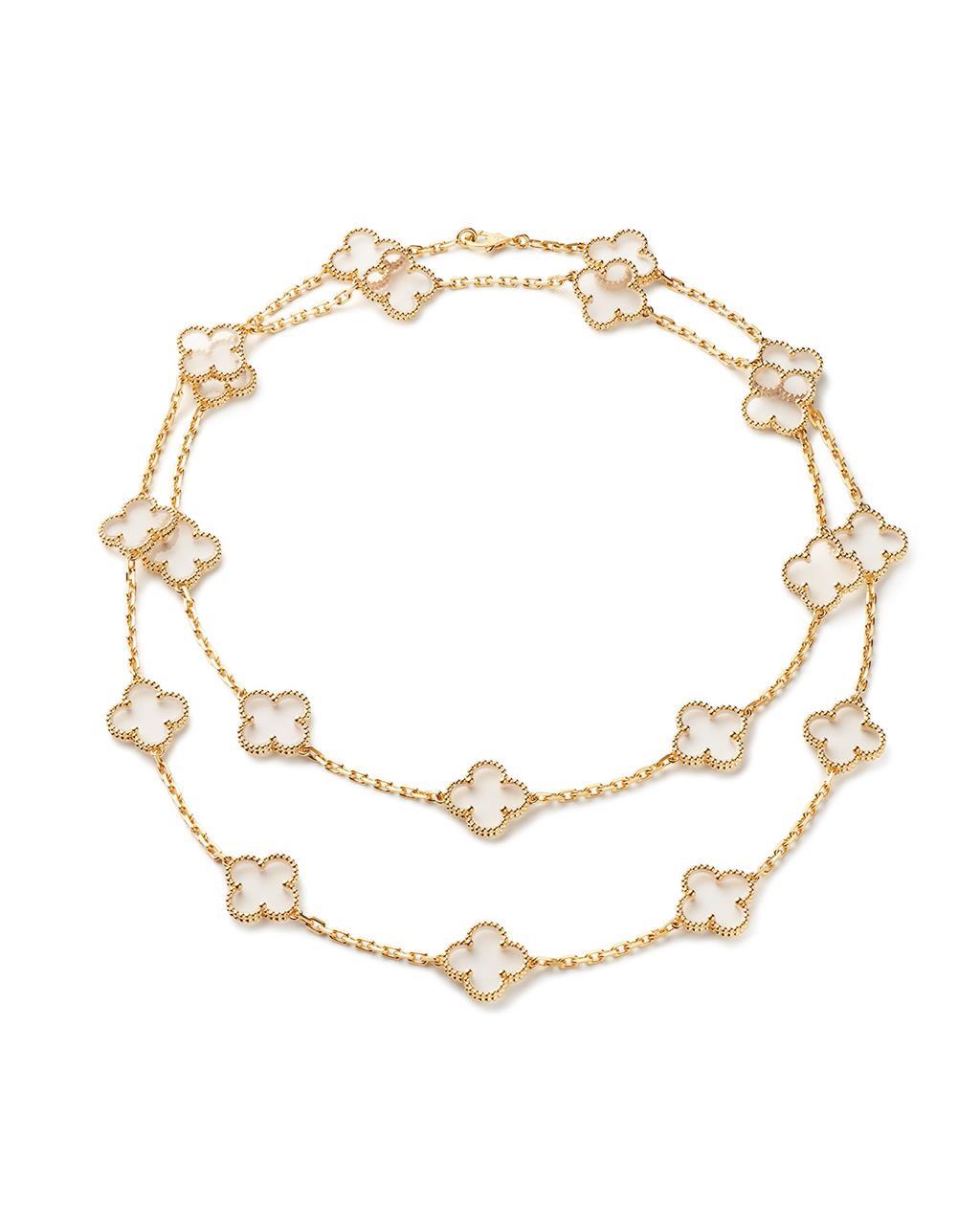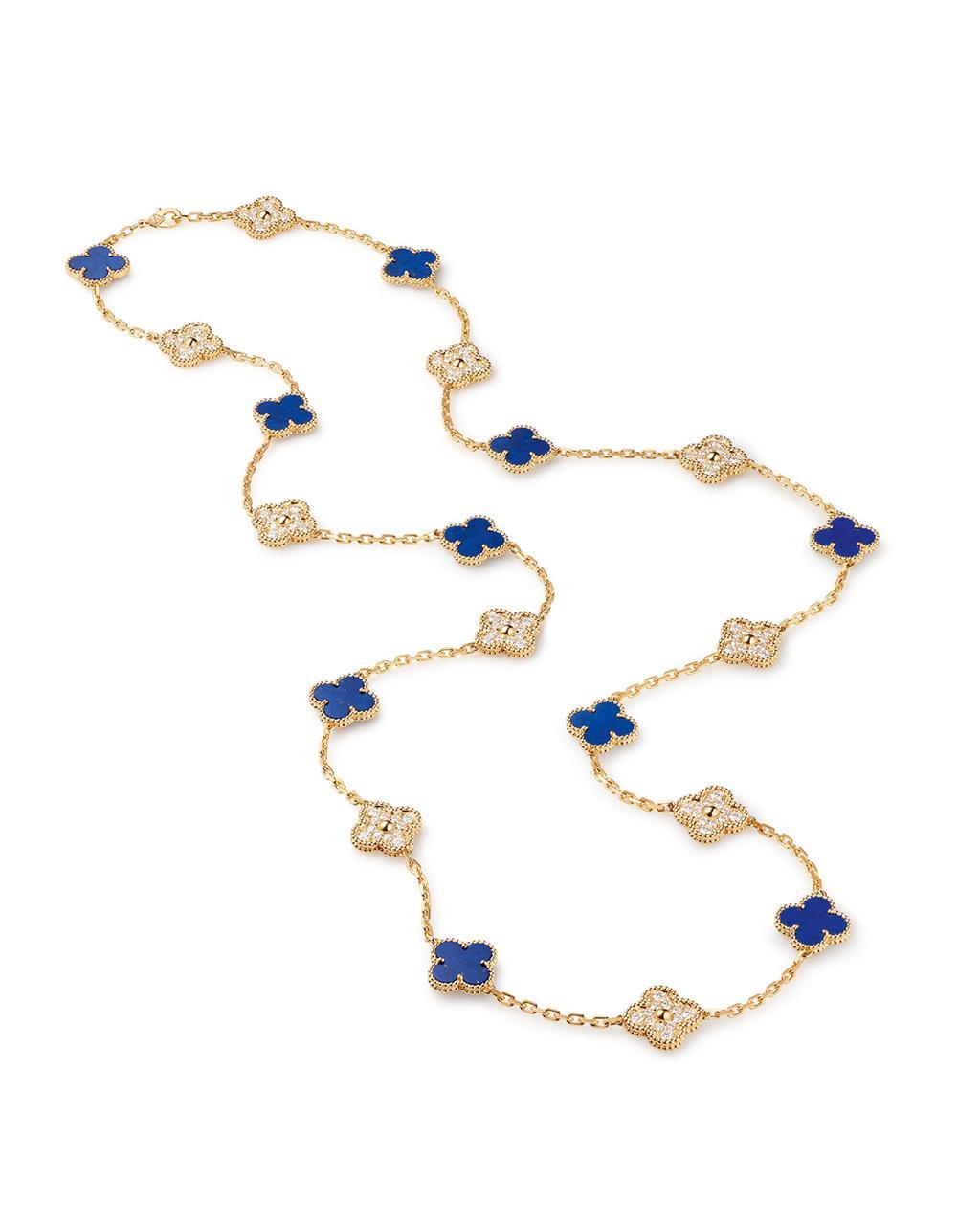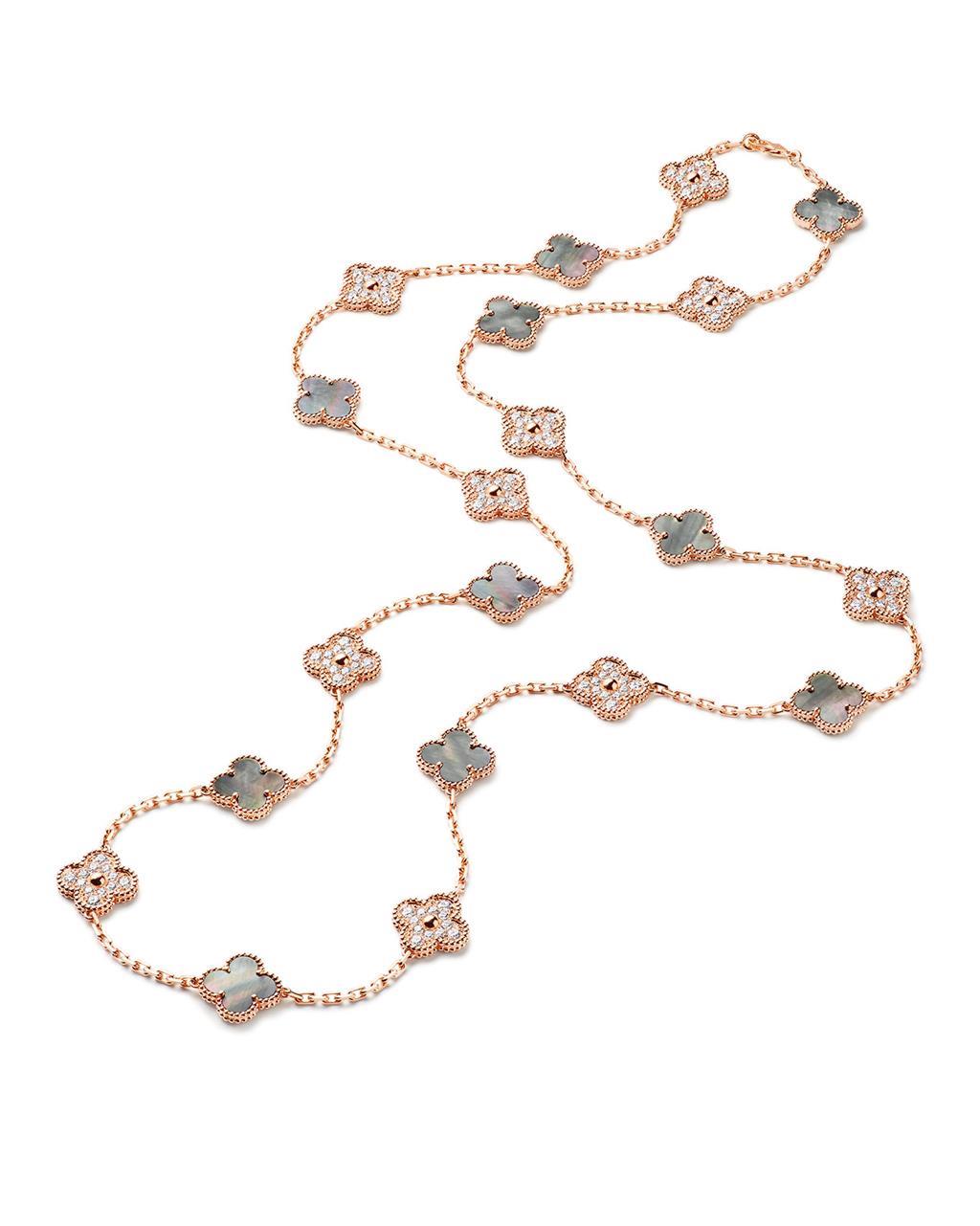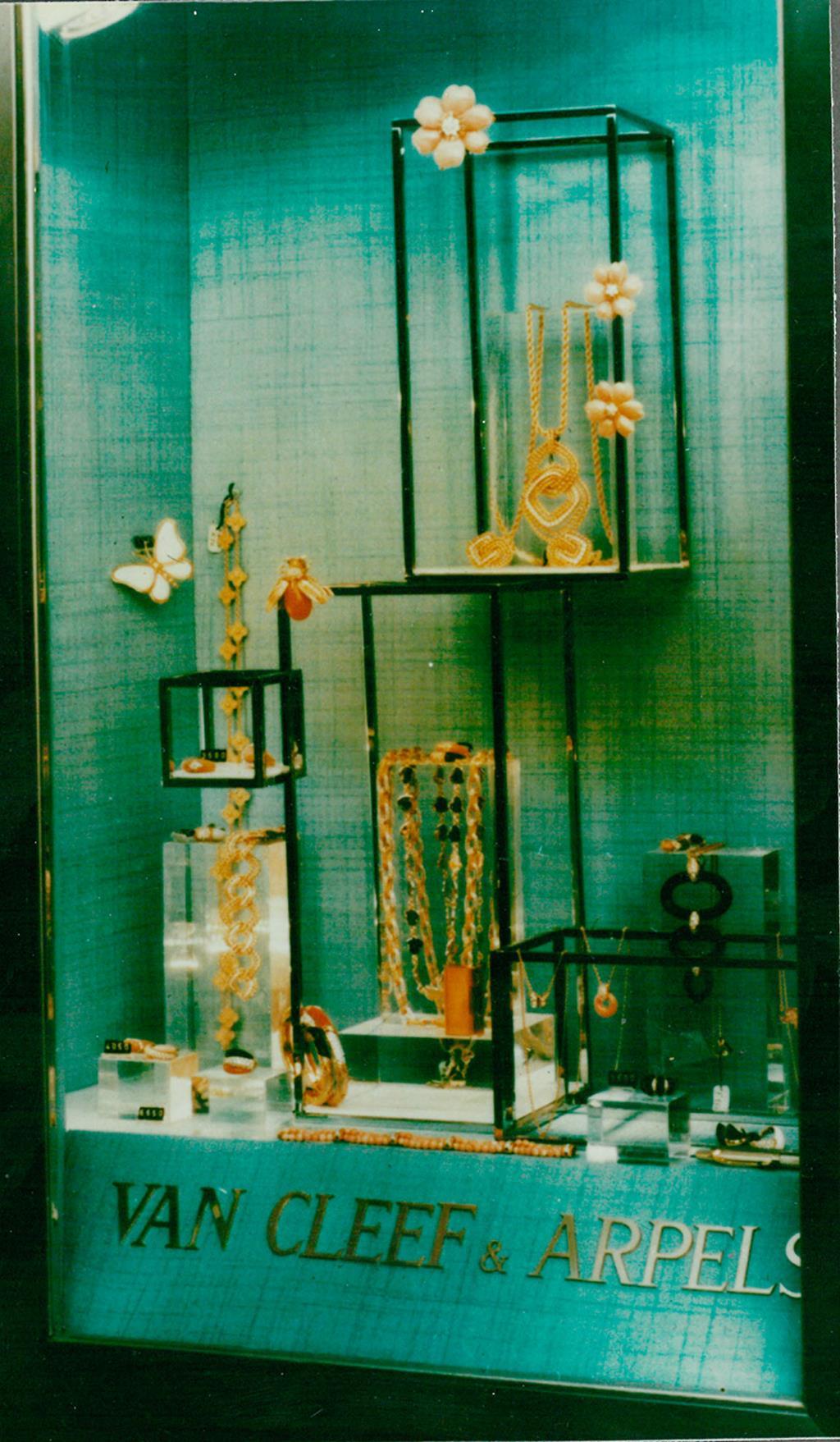 Echoing Art Deco style, Alhambra often combined precious gems with hard stones and organic materials, including lapis lazuli, malachite, turquoise, coral, tortoiseshell and wood. Princess Grace of Monaco was known for layering three or four yellow gold Alhambra necklaces set with coral, lapis lazuli and malachite.
Master jewellers hand-select these materials for quality and purity, then cut and polish them before setting them within a beaded gold frame. Solid gold medallions and those that are paved with gems, such as diamonds, are appointed with a single golden bead at the centre. Today, a bestseller is classic, luminous white mother-of-pearl.
To commemorate Alhambra's golden anniversary this year, Van Cleef & Arpels has created designs that convey the spirit of the originals while catering to contemporary tastes. One suite consists of a Vintage Alhambra necklace and bracelet, accompanied by Magic Alhambra earrings, combining iridescent grey mother-of-pearl with sparkling diamonds and the warm glow of pink gold. Another Vintage Alhambra necklace alternates motifs in black onyx and glittering white diamonds with white gold. 
The jeweller is also producing very limited quantities of special editions that pair deep blue lapis lazuli and diamond pavé medallions with yellow gold, which is trending once again. Other limited editions are made with yellow gold and rock crystal and black onyx with diamonds. As Cariou points out, the design itself does not change, rather it is constantly refreshed using new materials and colour combinations.
"Everything we create today has a link with the past," says Cariou, who notes that designers continually reference the extensive archives and research new acquisitions for the brand's museum, which houses more than 1,000 pieces. "It's very important for Van Cleef & Arpels in order to keep our soul, to keep our style, to look at what was done in the past even if, of course, we adapt it for new tastes, for our new lives."
To see the modern day interpretations of Cartier's Panthère, visit cartier.com
Van Cleef & Arpels's current collection of Alhambra fine jewellery designs can be found at vancleefarpels.com