A Taste Of Berlin
In conversation with chef Daniel Achilles, on German cuisine and keeping guests satisfied
Even as a child, Daniel Achilles always loved being in the kitchen. But it wasn't until after the fall of the Berlin wall that young Achilles, a native of Leipzig in the former East Germany, could realise his dream of creating haute cuisine.
Setting out on a culinary odyssey through Germany, he studied under mentors like Rainer Behringer, Juan Amador and Christian Bau, before meeting business partners Sabine Demel and Ivo Ebert, founding restaurant reinstoff in Berlin-Mitte. Its courtyard location may be almost invisibly inconspicuous, but reinstoff didn't stay a secret for long – within six months of opening, reinstoff had its first Michelin star.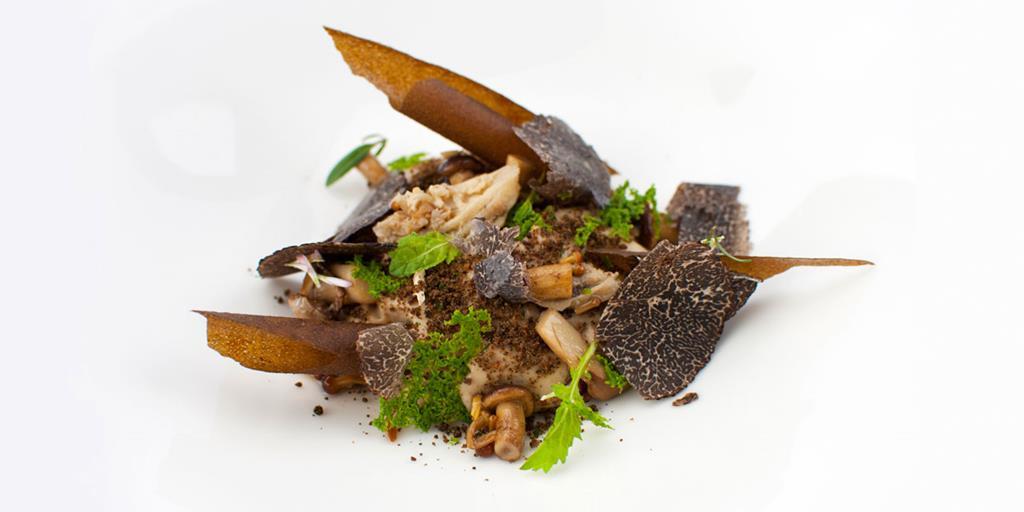 You trained in Germany with German chefs, so in what way is your cuisine 'German'?
We try as much as possible to work with local produce such as pork, poultry, vegetables, oils and cheese. Fruit also plays a role – berries, pears, apples, plums – things someone might consider 'typical' of Germany, which means that our food is 'German' somewhere along the line.
But of course we don't just cook German dishes like pork roast, bean stew or Spätzle – you can't get anywhere with that today, and that's also not my aim.
Restaurant reinstoff is known for its unique concept. What is that concept, exactly?
The core is the two menu system we have; that's what everything revolves around. One menu is called ganz nah (very close) and the other is weiter draußen (further away). Ganz nah is a five-course menu and weiter draußen has eight or nine courses. For each, we serve four Grüße (greetings) – which are tapas or micro-dishes – at the beginning, and then four petit fours at the end.
For ganz nah, as the name suggests, we use regional products as much as possible, indigenous foods from Berlin, Brandenburg, or also supra-regional German products from the Baltic Sea, southern Germany, etc. The weiter draußen menu is the 'chef's menu', to put it simply, and for that we buy a bit more global, more in the direction of luxury foods and classic gourmet products like caviar, foie gras, lobster, etc.
What made you decide to start your own restaurant?
When you have a career like this and really live a professional life, at some time as sous chef or chef de partie you come to a point where you can't go any further. You have employment and a good contract in a restaurant, but there's always the head chef or the owner. Eventually you turn 28, 29 or even over 30, and you stand there and ask yourself, "what comes next?" In the best case scenario, the chef retires or doesn't want to do it anymore, but you can't wait too long.
That was sort of the crucial point where we [Achilles and business partner Sabine Demel] had the feeling that the time had come. Then Ivo Ebert came into play and threw out the question again: "What if we opened a restaurant ourselves?"
And what was it like when you got your Michelin star?
You hope it will happen, but you can't really expect it. We especially hadn't expected it, because what we have isn't exactly the classic gourmet restaurant; it's not so conventional. It was a real sensation, especially since hardly anyone had expected us to accomplish that so fast.
Also, because we're doing it ourselves and in some ways work with more financial restrictions, we run certain things differently than, for example, someone who has a franchise or a corporation or a sponsor. That's why it was a rather big surprise for us – but of course first and foremost a joy, and also a confirmation for the first year of really hard work. I couldn't actually believe it, though, until I opened that little red book and saw a star by reinstoff. You can't believe it until you see it for yourself.

To what do you attribute the success of reinstoff?
In that year, we were often visited by hidden testers. One time, there was a tester who wanted to speak to me personally after he had tried our menu, and I stood at the door with him and we philosophised a bit. This man made it very clear to me that it doesn't matter what your restaurant looks like, what's in your wine cellar, whether your chairs are made of real leather or fake leather, cushioned or not. At the end of the day, you get one, two or three stars for what's on the plate. I think that statement stands for itself – I guess the food is simply good.
What's the biggest challenge you have faced?
I used to think the biggest challenge would be to survive in a restaurant as an employee. However, since I've become a business manager for the first time in my life and head chef at the same time, I have this responsibility for the menu, the food, a social responsibility to the employees, for press and PR, etc. I can say that what I do right now is the biggest challenge – to achieve success in a certain time frame, stay successful and, hopefully, become more so. And, of course, to continually send off satisfied guests every evening.
How do you define 'satisfied guest'?
I want to somehow reach the guests emotionally – and I'm not talking just about the food, I'm talking about how the wine accompanies the menu, the atmosphere of the restaurant, the general mood that evening, the service – the whole package. When, in such tough times, you can separate people from their problems and their stresses through a restaurant visit – to me, that's a satisfied guest.
What is your culinary guilty pleasure?
I love to eat Kartoffelpuffer, which is a pretty German thing but also an absolute 'German housewife' dish – kids love it. It's roughly grated potatoes that have been cooked in lots of fat until they turn golden brown and crispy. Traditionally it's eaten either with applesauce or with herbed sour cream and smoked salmon.
What advice do you have for the passionate home cook?
First, you should always think about what you want to cook and take a look at the recipe to see what kind of options you have at home. You can already see if it is not going to be possible to recreate the dish at home – perhaps the stove is too slow, there aren't enough dishes, not enough space for the preparation, etc. The second thing – regardless of your kitchen – is to have a good knife, or many good knives, and a good cutting board.
The simplest thing though, is 'practice makes perfect'. Just keep going, and don't lose the spirit and fun of it.