Amanzoe Villa 20
A private villa set above the Peloponnese coast combines a coterie of unforgettable design features with Aman's inimitable amenities. Bill Prince reports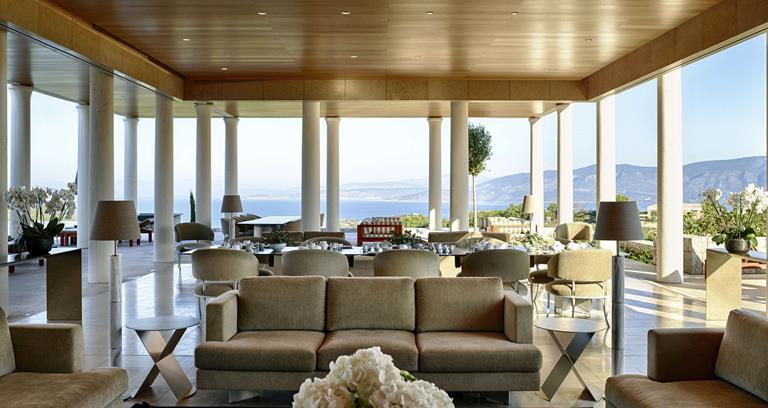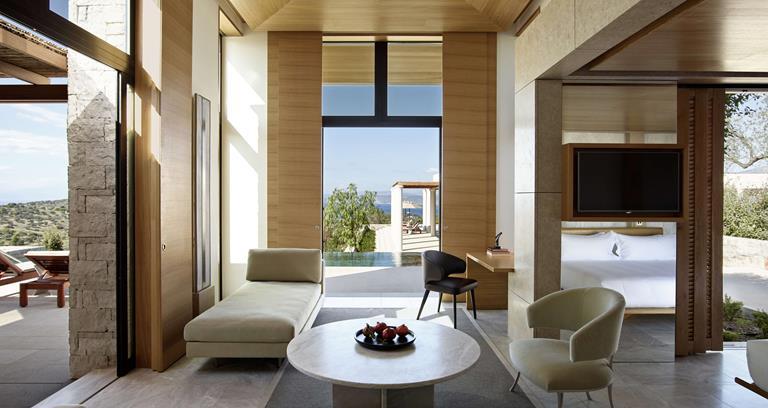 A bedroom with private pool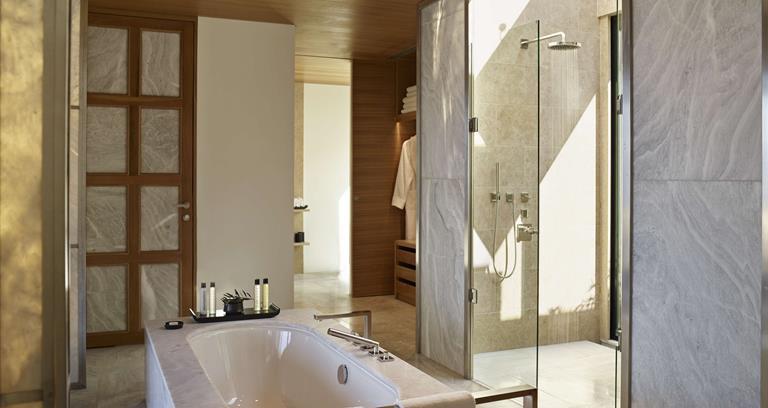 Bathroom at the Master Pavillion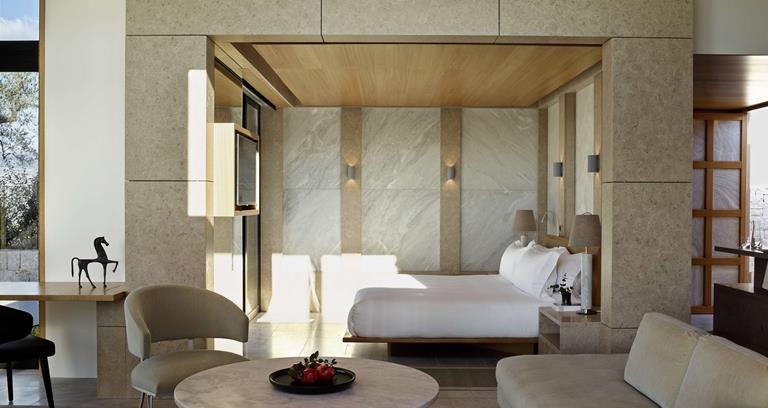 Over its six levels, Villa 20 sleeps 20 guests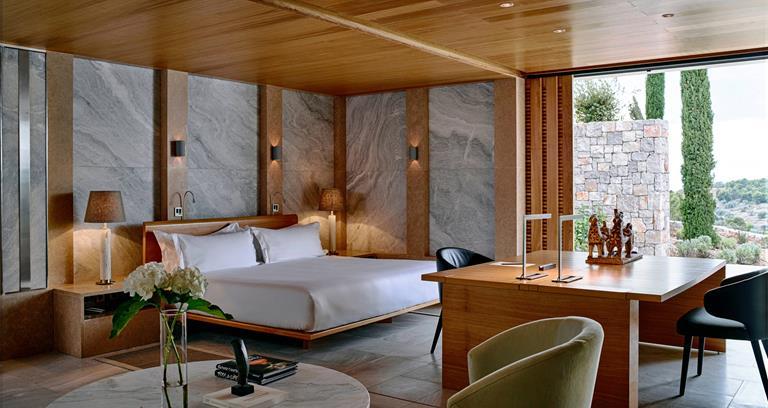 A bedroom on level 3, connected to the Master Pavillion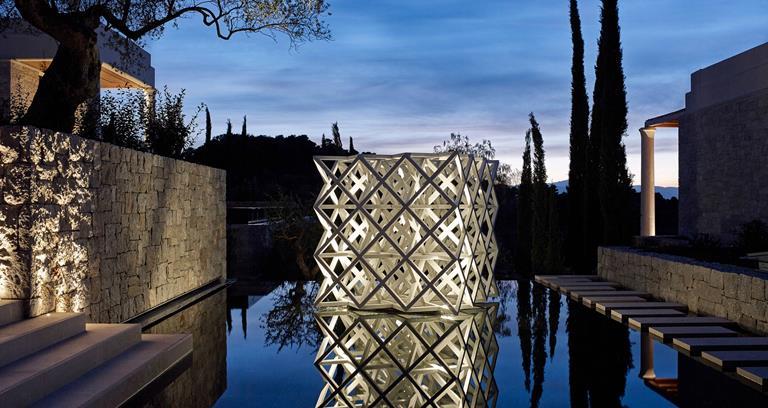 Numerous specially commissioned artworks are found throughout Villa 20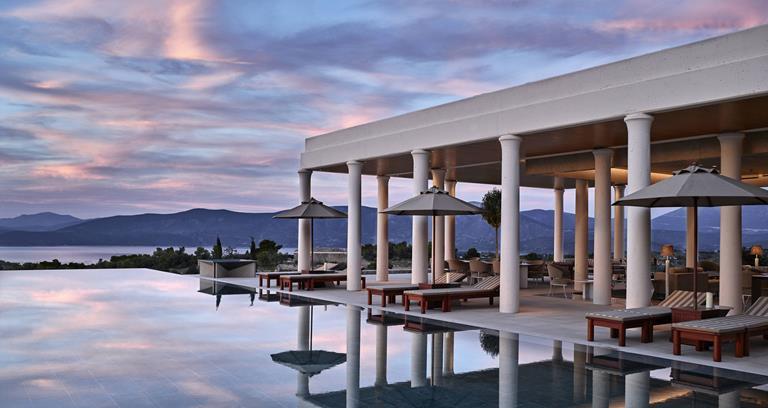 The 30-metre, 2nd level infinity pool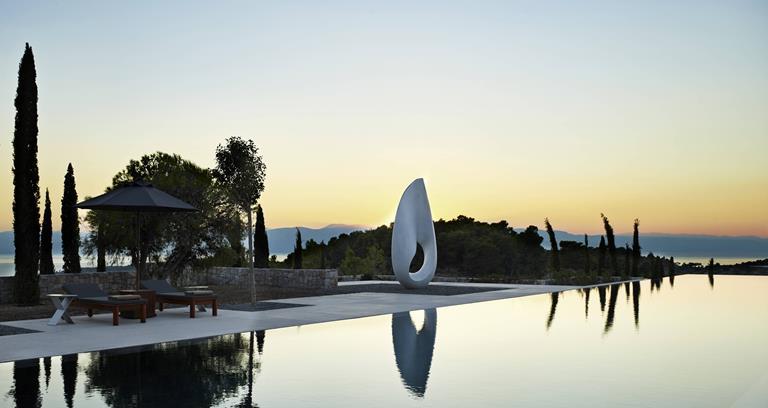 The 40-metre infinity pool on the 6th level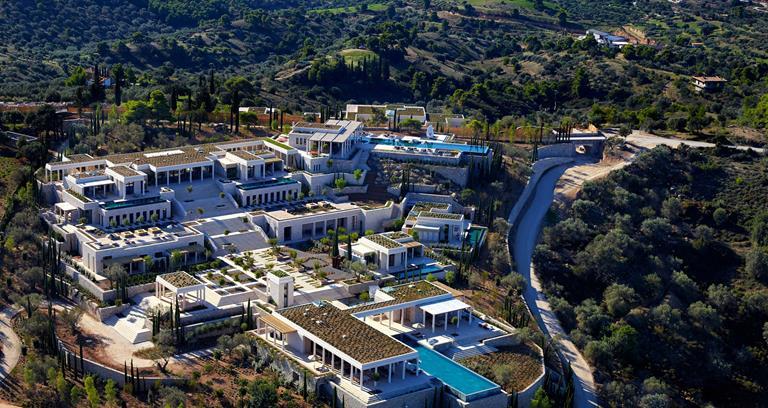 The full expanse of Villa 20 is only truly revealed from the air
Rising like some Delphic dreamscape atop a promontory overlooking Spetses and the bottle-blue Aegean beyond, Aman's first Greek property, Amanzoe, symbolises the summit of elegantly laid-back luxe with a strong sense of place. But it also acts as a portal into a further realm: the very last word in private villas created by the sort of one-of-a-kind "Amanjunkie" for which the group has become known. Behold, then, Villa 20, a gargantuan (1.6ha), nine-bedroom complex of Ed Tuttle-designed living and working areas conjured from the rocky hillside at the farthest reaches of the resort's succulently secluded property.
A next-level live/work concept of a Swiss-based couple eager to extend their frequent visits to the area while keeping abreast of their various businesses, it artfully mixes the majestic – airy living spaces that double as night-time dining zones – with the strategic: there are rooms set aside for more private affairs, as well as a fully equipped Technogym spa and games room to attend to the downtime of less restful guests.
Villa 20's remarkable design doesn't end there: free-flowing down the hillside over six levels, it offers endless vantage points from which to view the owners' collection of commissioned sculpture – while never losing sight of its spectacular natural setting. And it seems a trifle in context, but if the six indoor and outdoor pools (three of which are attached to suites) fail to amuse, the villa has a private cabana with pool at the Amanzoe Beach Club, ten minutes' drive away on a secluded private bay. It's hard to imagine a better modern-day classic.