Haute Couture Paris
Daily updates from Centurion Magazine's contributors worldwide

Impressions from Paris for Haute Couture week, as reported by Avril Groom.
Day 4 – 27 January.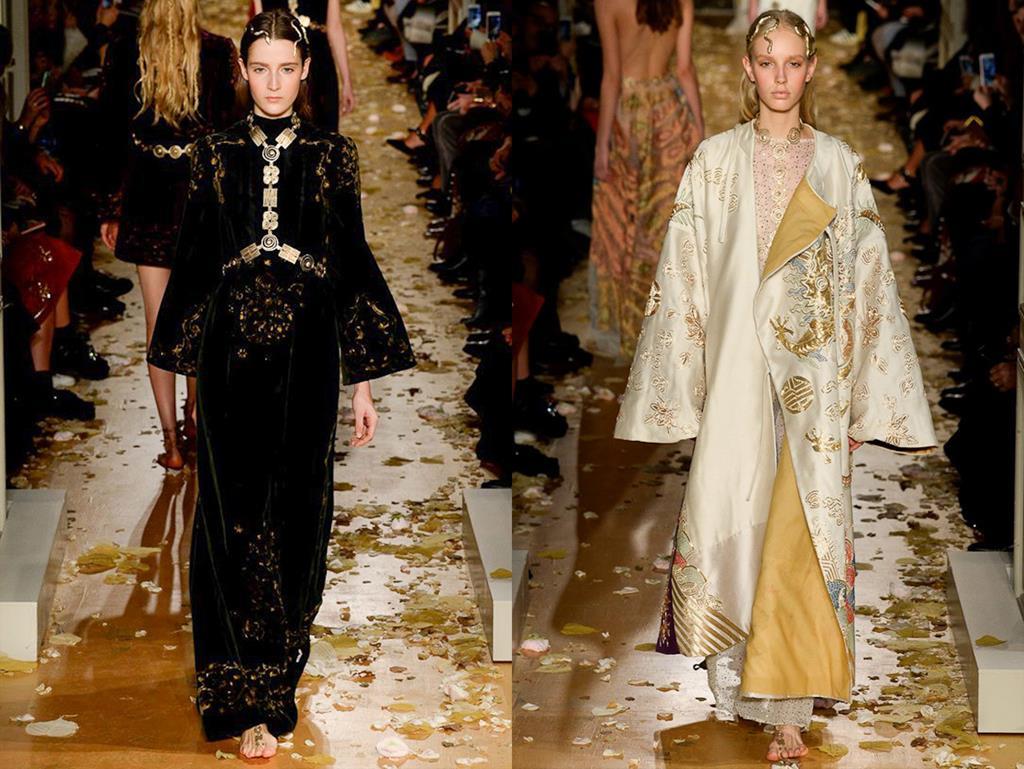 Valentino. The best is last, possibly the world's most beautiful clothes. Fortuny the inspiration, so Grecian pleats of exquisite fineness toughened with scrolled gold harnesses, or dark, faded velvet stencilled in old gold. Metallic snake tiaras and enveloping embroidered coats have a pagan, regal ring. Perfect in every detail.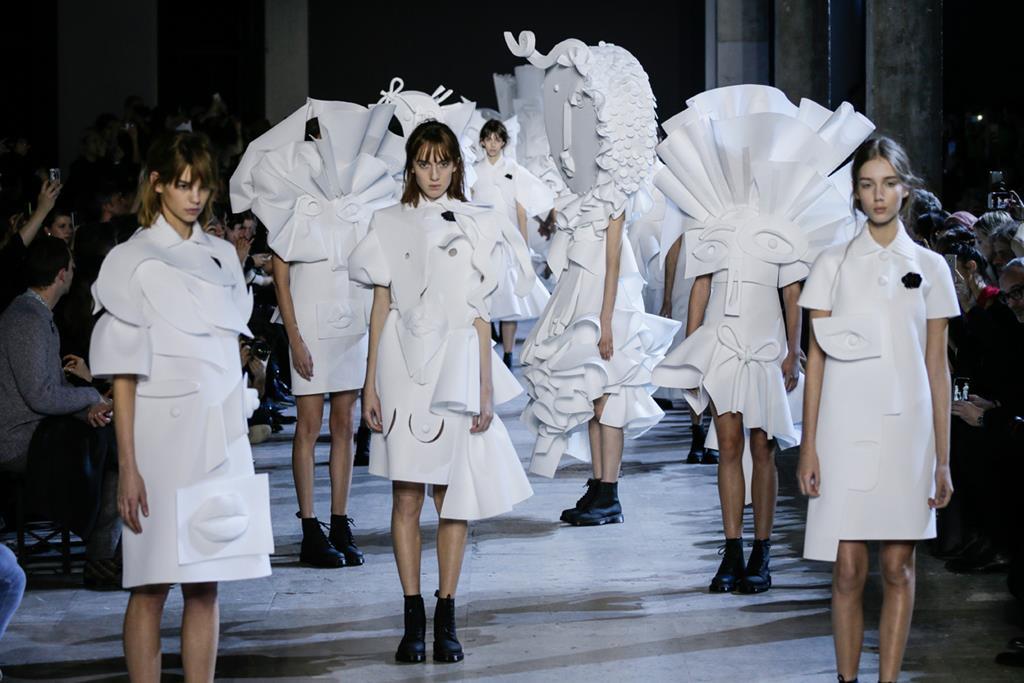 Viktor and Rolf. Couture's favourite performance artists continue exploring wearable art. Last season's framed canvases become this spring's sculpture, all white with hand-constructed Cubist faces, padded hair and cut-out breasts. From Picasso to Brancusi in inspiration, the concept is remarkable but wearable, it is not.

Jean Paul Gaultier. Still the enfant terrible at sixty - his models smoke, drink and have fun on the catwalk - quelle horreur! 1980s clubbing nostalgia, but nowadays in sumptuous silk, velvet or sequin pyjamas or a lace-trimmed slip - quite the trend - plus a good tux suit and an orange mink bomber.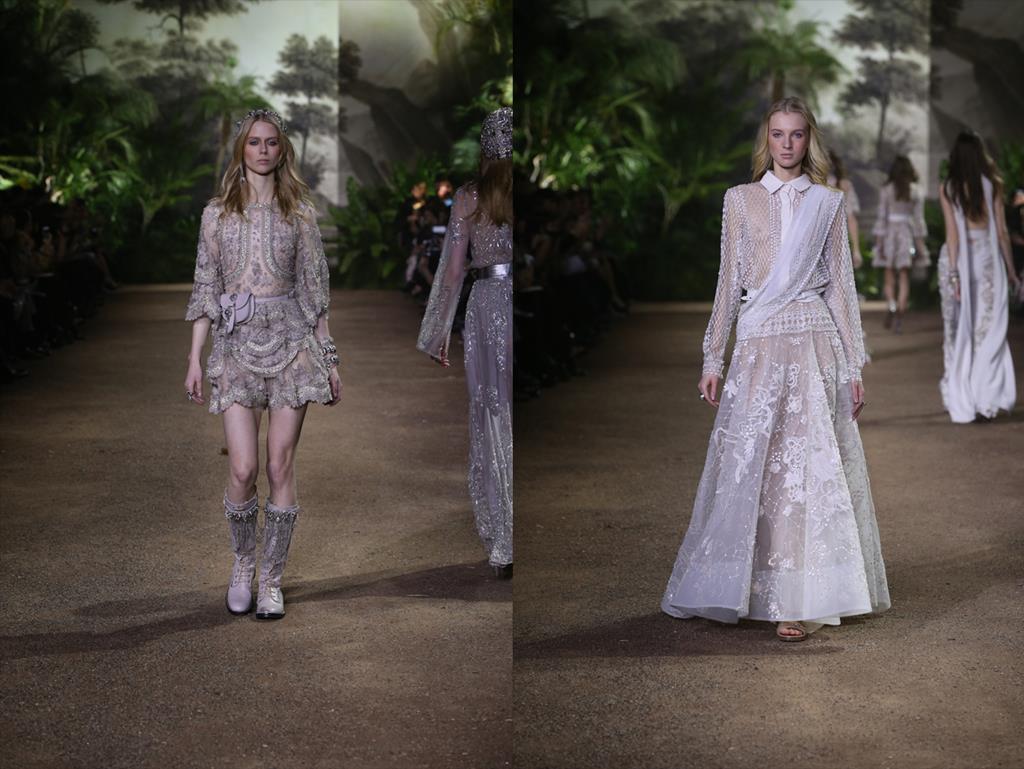 Elie Saab. Younger, cooler look from the master of red carpet pretty glamour. Festival girl short skirts, tiaras and flat boots, sweet long dresses with Victoriana hints, but all in twinkling, crystal beaded lace - silver grey, soft blue or dusky pink. Very grand even if worn with casual hair and make up.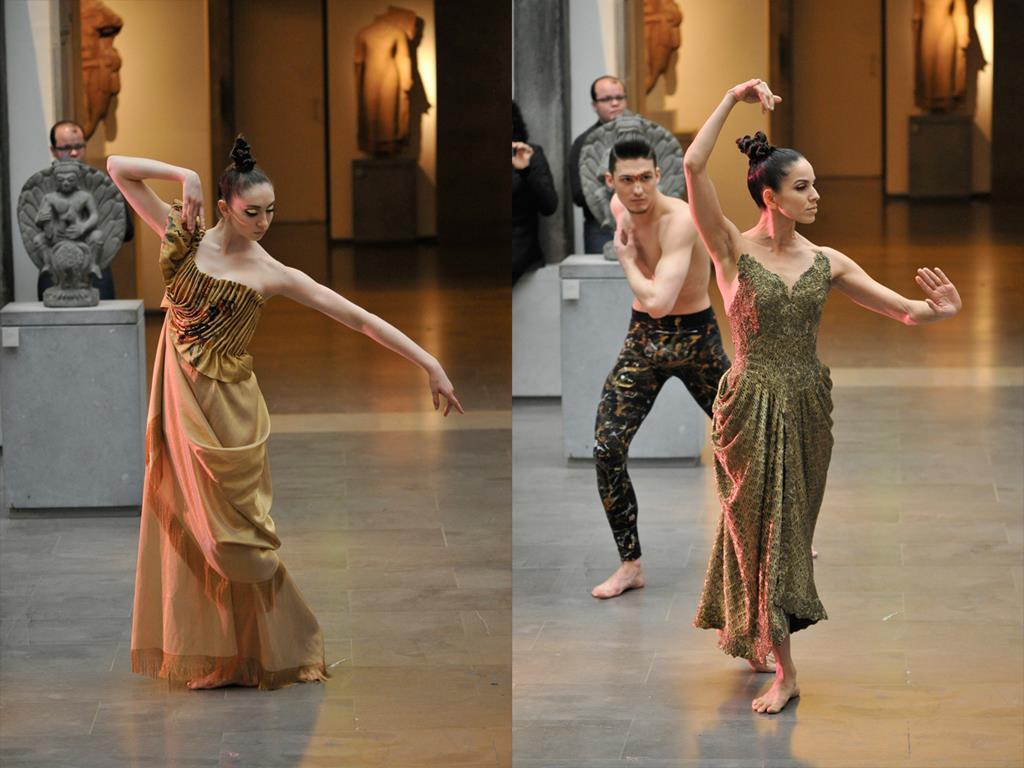 Franck Sorbier. Musée Guimet (Oriental antiquities) for Sorbier's art/fashion fusion, with Indonesian gamelan accompaniment and dancers modelling featherlight dresses in handmade lace and chiffon and washed earth colours. Couture to literally dance in.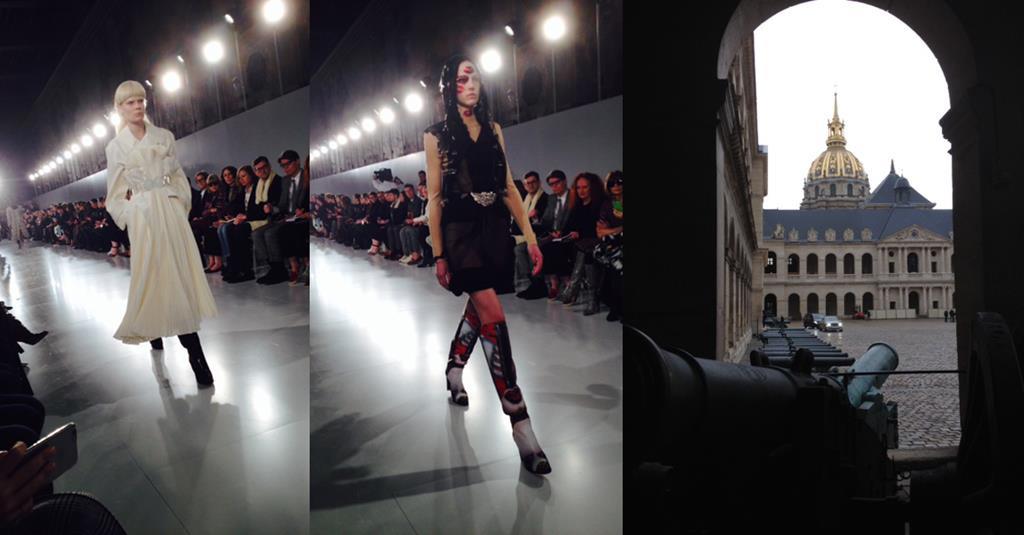 Maison Margiela. John Galliano continues his fashion rehab here in fine style. Trenchcoats, bomber jackets and bias-cut dresses link couture crafts of handweaving, patchwork and beading with recycled T-shirts , paper and wood alongside silk and brocade, in magnificent historic setting of Les Invalides.
Day 3 – 26 January.
Alexandre Vauthier: the only couturier who can make bondage kit look classy. Very short, black and cut-out can work on runway bodies, especially worn with thigh boots laced wickedly up the back. Yet with severe, brass-buttoned tailoring it looks wearable, likewise softly ruffled, split-to-here chiffon gowns in dusky khaki or vivid red, spiced with leather harnesses. For very sophisticated good time girls.
Armani Privé. Giorgio Armani's couture collection is in gentle and youthful mood, with fragile fabrics in pale blue, lilac and grey, with black for a little edge. Ruffles and pleats abound, but on graphic, predominantly short shapes. Tiny pleats come in waves like sand ripples, crystal beading and sheer metallics sparkle delicately. All about exquisite work and subtlety.
Bouchra Jarrar. Cool couture for a new generation, with a more Antwerp than Paris mindset. Faultless tailoring, oversized and layered jackets, slinky satin dresses and a "fur" coat in feathers and pearls.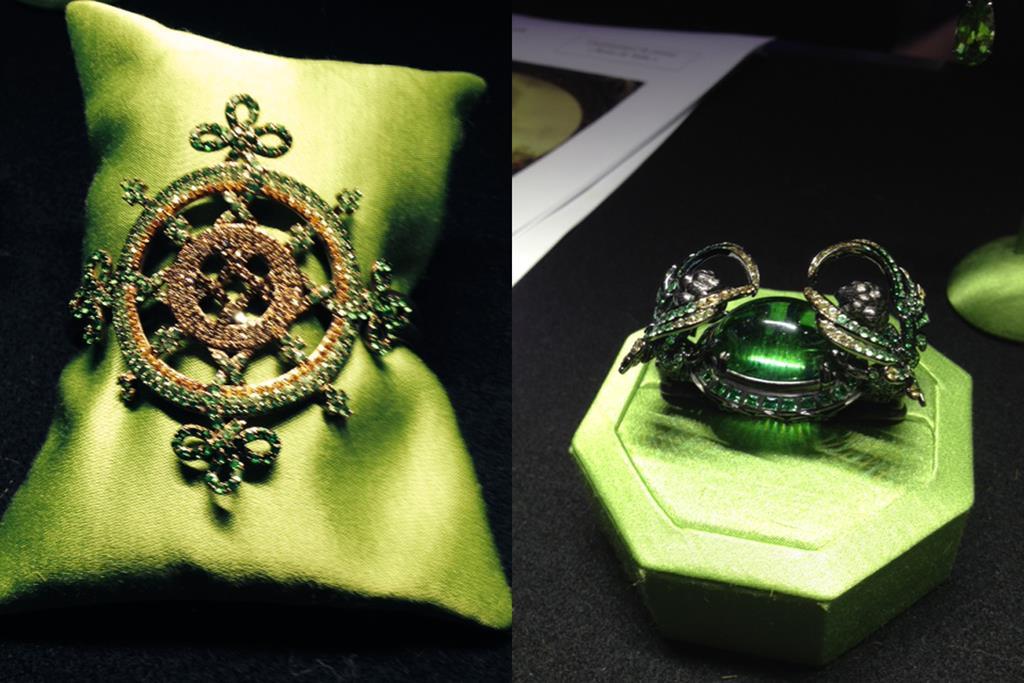 Lydia Courteille. Brilliant Paris independent jeweller takes inspiration from Ethiopian landscape and culture for extraordinary pieces based on volcanic acid lakes, relics in underground churches and the Queen of Sheba. Wild, in every sense.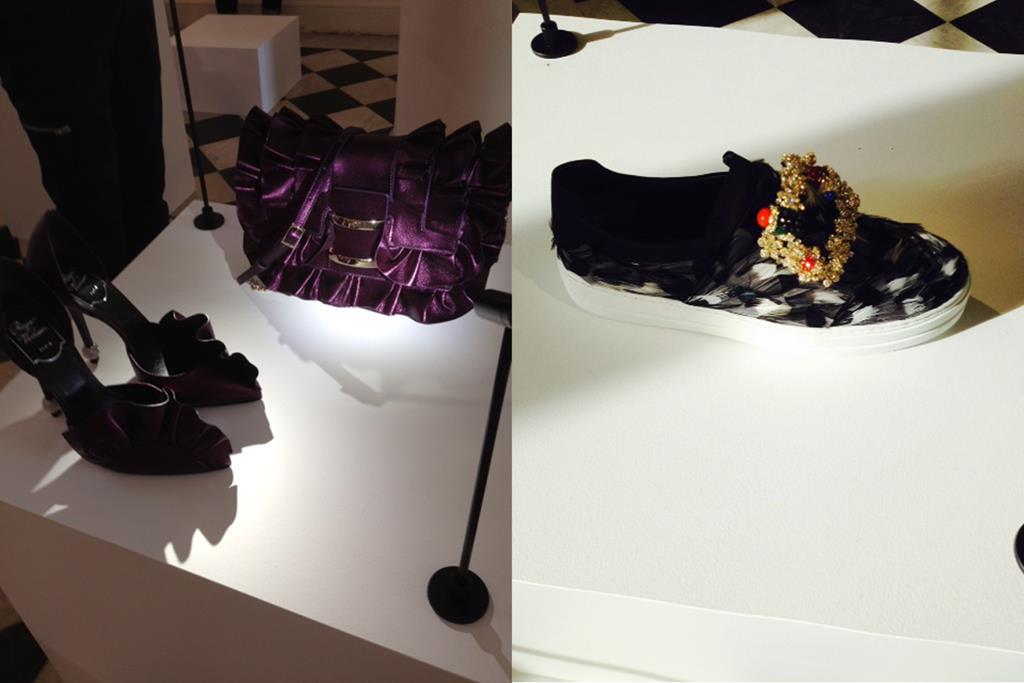 Roger Vivier Rendez Vous. Historic French shoe brand widens its premium range to include exquisite beaded lace, and the most bling-tastic skate shoes ever. What we need for Paris trekking in today's taxi strike.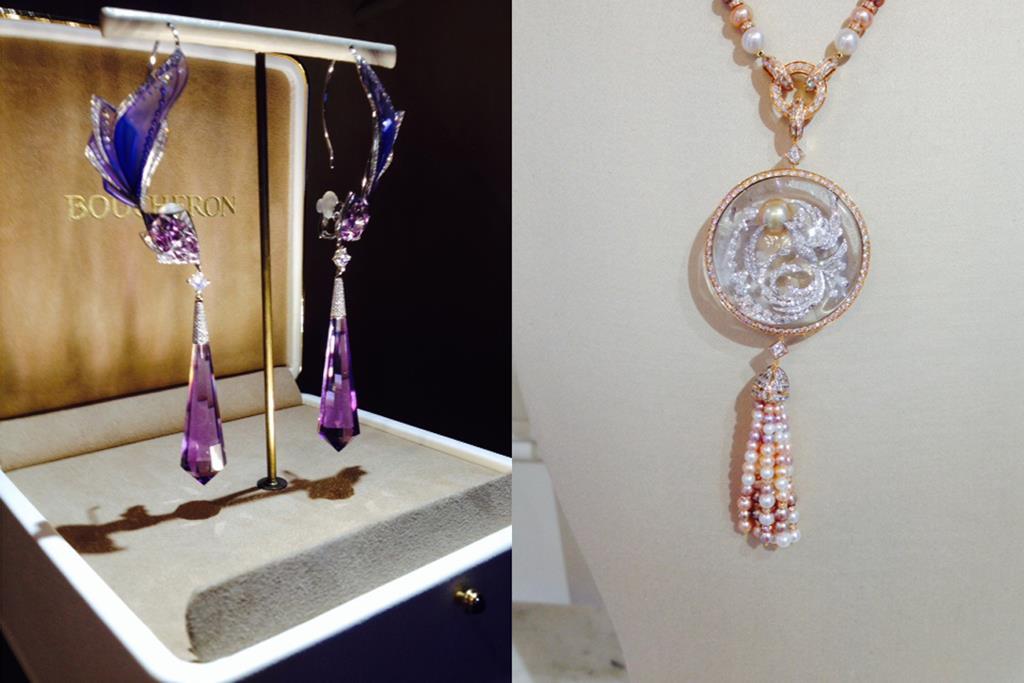 Boucheron. Classic Parisian high jeweller adds to its magic animals collection with extraordinary ear climbers of lacquered rock crystal and amethyst, and diamond and pearl peacocks encased in clear crystal pendants.
Aouadi. New, Algerian-born couturier worked with Riccardo Tisci at Givenchy and it shows in fine-boned corsets, delicate button detail, techno-silicon lace and a dress of feather tweed.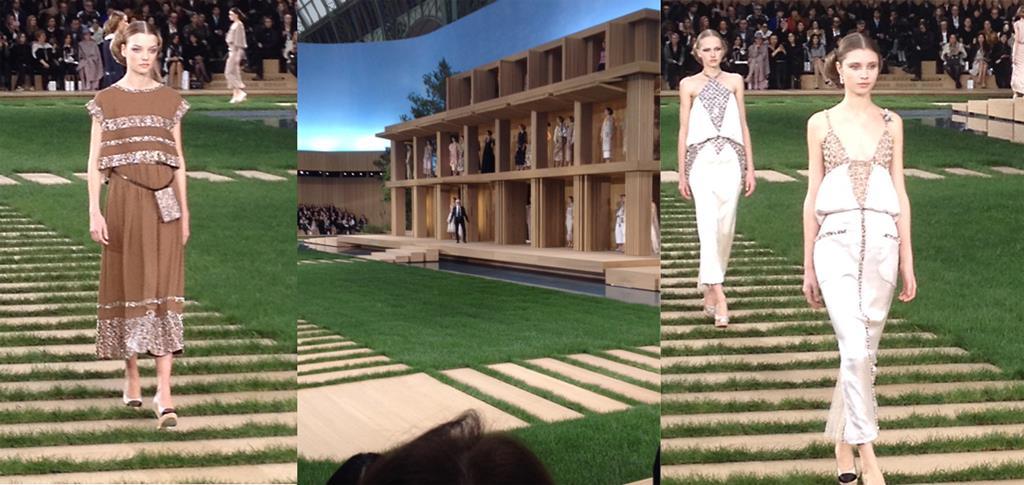 Chanel. Karl Lagerfeld's zen-meets-Palm Springs eco-set inside the Grand Palais blends the original, loosened off early 1920s Chanel silhouette with a longer, linear modernity. Simple shapes and restrained colours allow concentration on finest pleating and serious beading.
Day 2 – 25 January.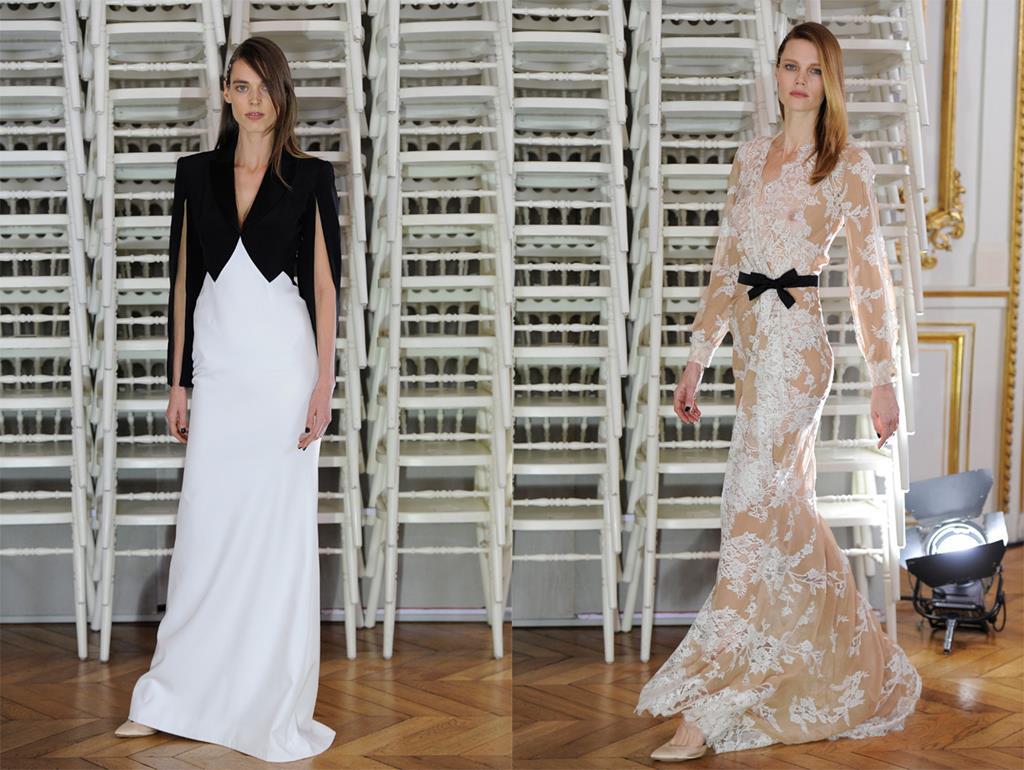 Alexis Mabille. Ultra-feminine, but masculine codes - hourglass tuxedo dresses, satin trenchcoats dressing-gown soft, dinner suits over loose shirts with sparkly lace. Plus balletic lace and tulle, and ex-super models still looking great.

Giambattista Valli catches the early 1960s spirit better than anyone, with ritzy couture finish. Tiny dresses mixing draped silk and sparkle tweed, barely-there baby dolls, blossoms beaded or embroidered, and a cloud of tulle ruffles. We loved the soft sheepskin underfoot.

Ralph and Russo. Grand red carpet gowns, London-made with Parisian embroidery. Phalanx of clients including Uma Thurman and Rita Ora loving soft pastel embroidery, spun gold leaves on nude and a duvet's worth of feathers. Goes from exquisite to OTT.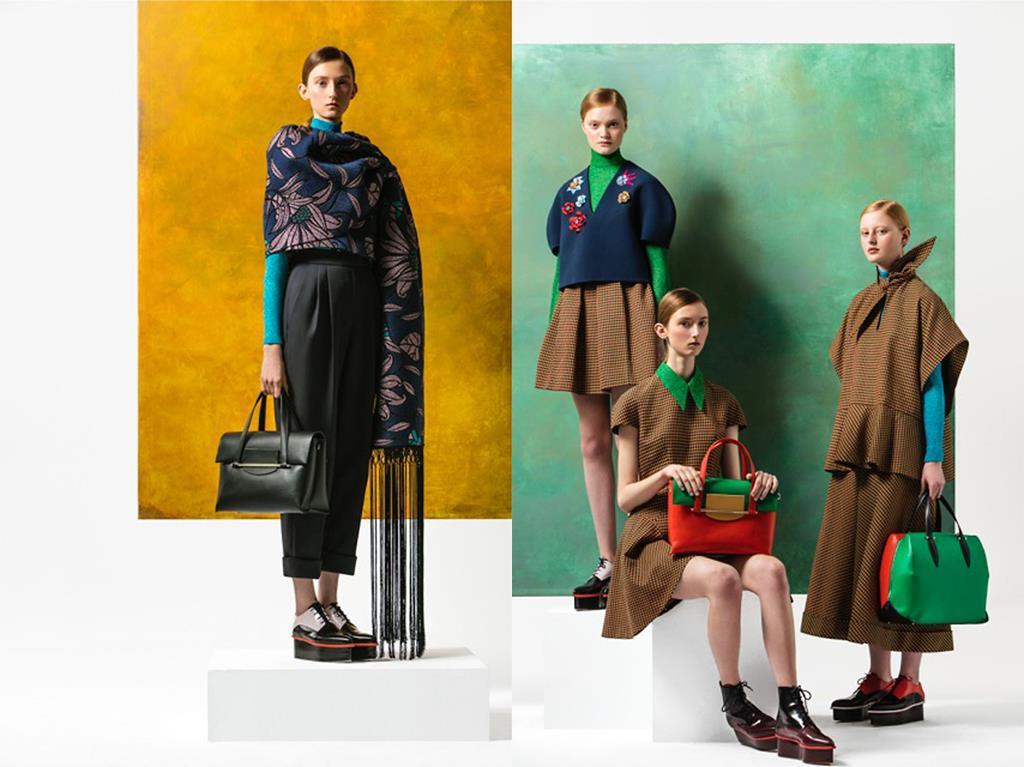 Del Pozo. Likewise this hotter than hot brand, made in Spain to almost-couture standards. Big, bright wonderful fabrics from stiff brocade to featherlight pleated tulle, decorated with sequin flowers. Great colour-blocked bags too. A name to watch.
Miu Miu. Not couture but early autumn ready-to-wear. 1970s-influenced, long A-line coats in "off" shaded jumbo cord and checks, with lace or sequin collars, chunky knit skirts and socks, with thick-heeled shoes patterned with studs. Part of the new, maximal-geek, quirky tendency.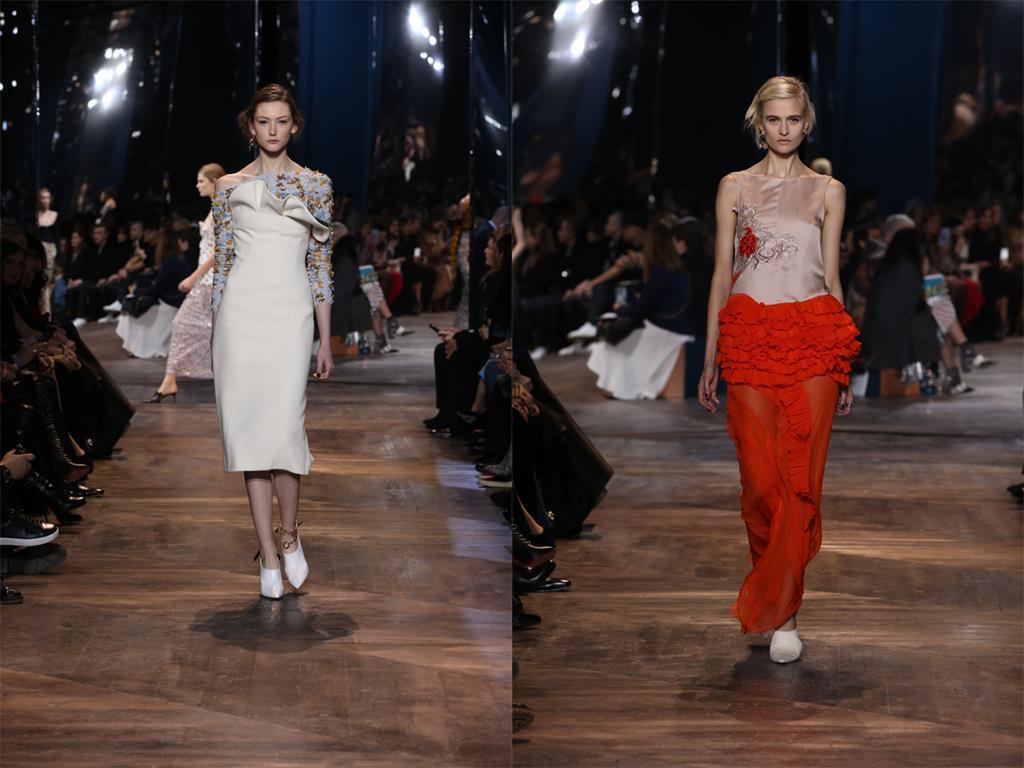 Dior. Bereft of a designer name for the second time in five years, the seven-strong in-house team do a good job with the brand's codes - curvy tailoring, ultra-feminine frocks - and find some new direction. Longer, slimmer tailored lines, off-shoulder layering, super-size ruffles and slightly 1930s sheers figure prominently.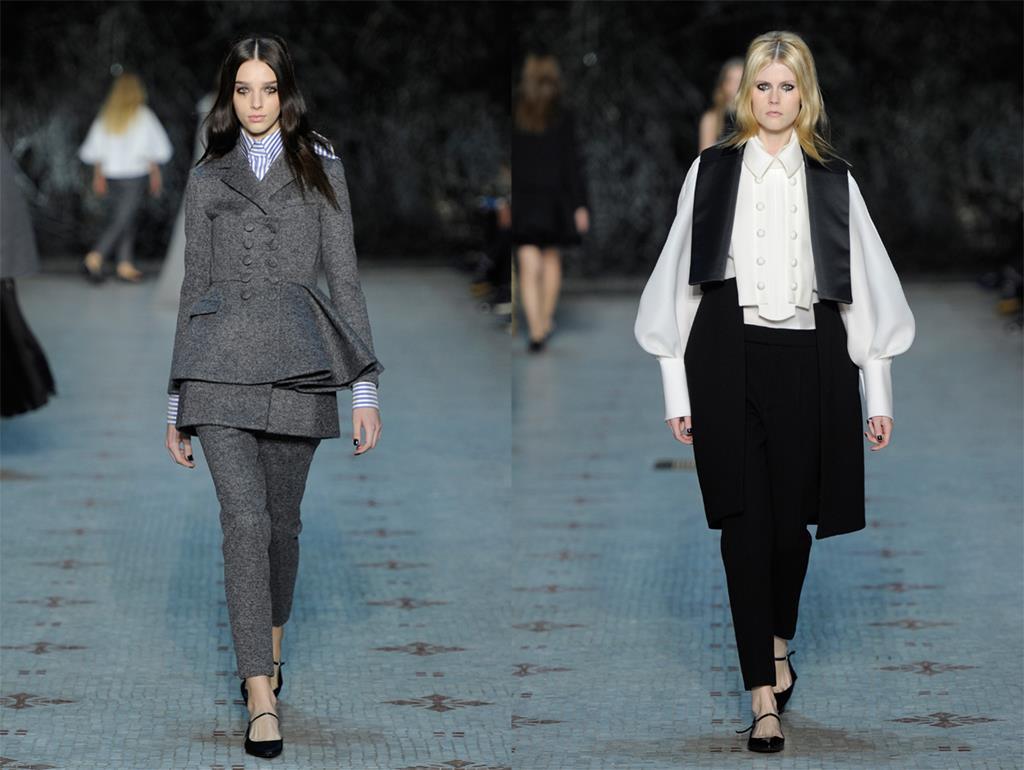 Dice Kayek. Architectural shapes, sculpted cutting and big, clean lines from Turkey's star designer sisters. Oversize sleeves, faintly military details in buttons rows and crystal epaulettes. Fabrics a little warm for summer by the Bosphorus.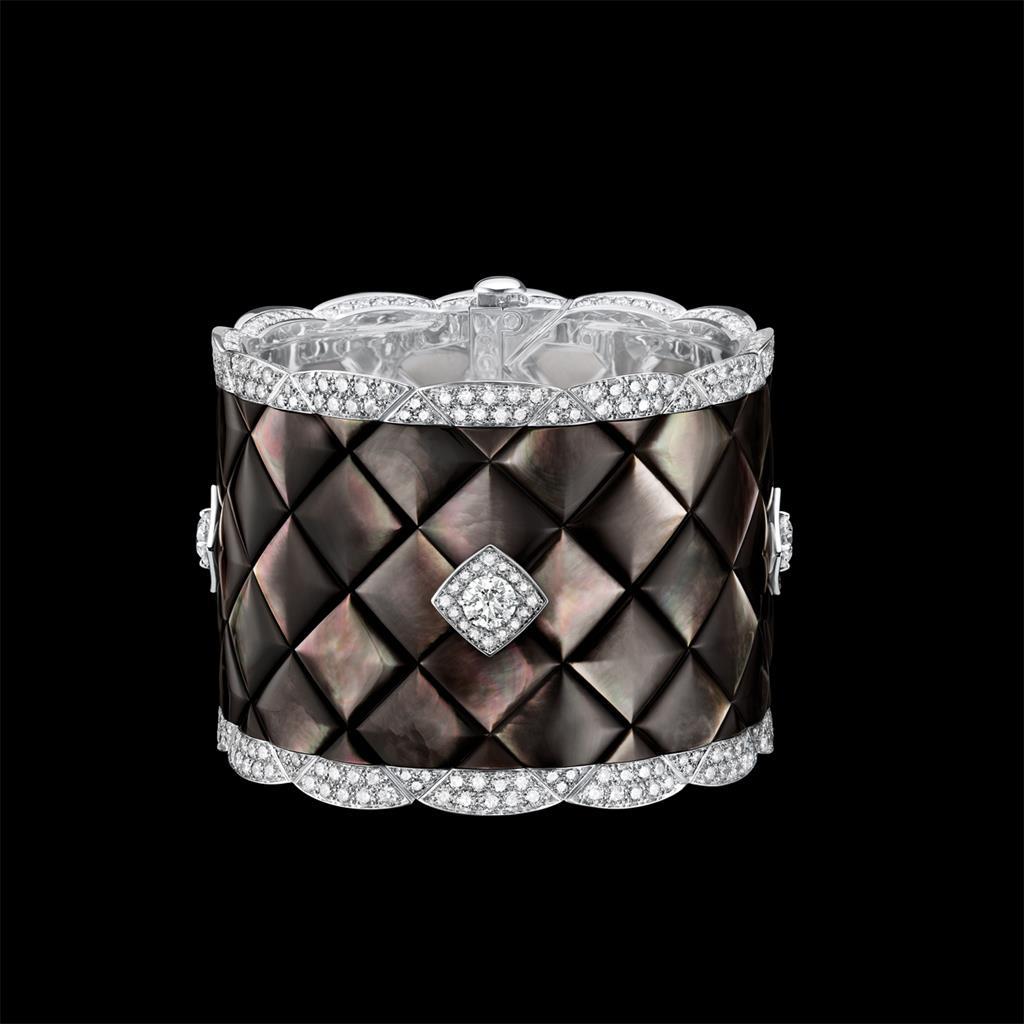 Chanel high jewellery. Quilting symbol takes over in white gold and diamonds, rock crystal, black pearl and some stonking sapphires. Every element curved and tactile, mystery-set sapphires the best of work.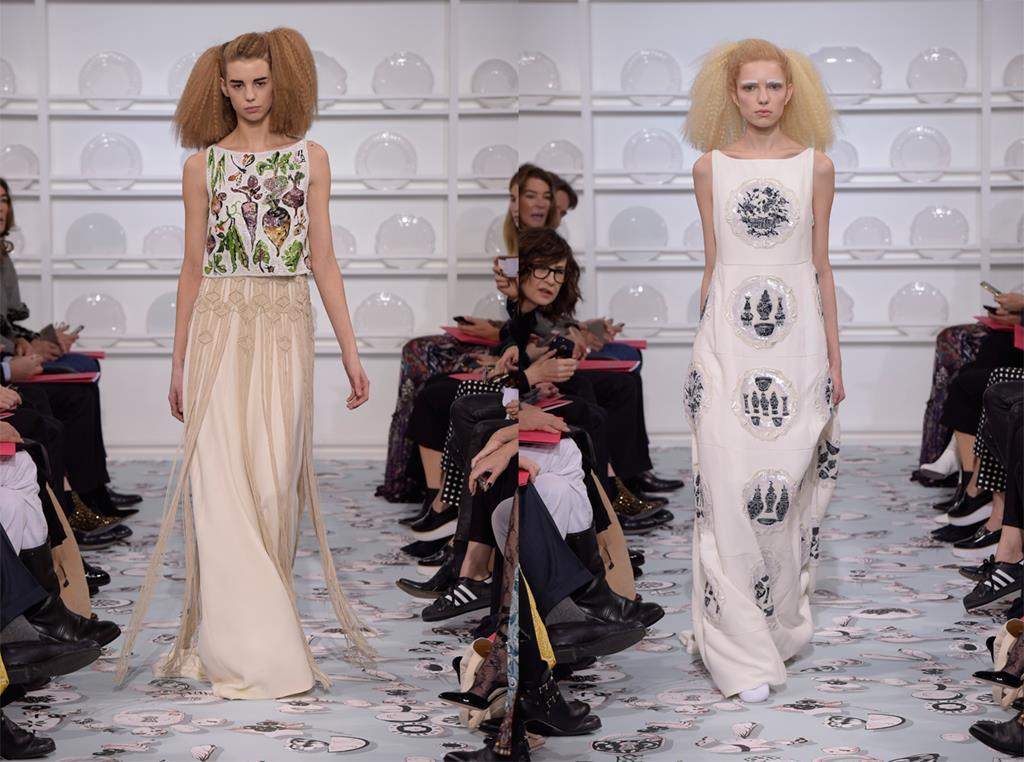 Schiaparelli. Elsa Schiaparelli loved Surrealist food, played on by designer Bertrand Guyon to make wearable magic. Sequin fruit and vegetables, plus the famous lobster, ornate embroidered plates, intricate basketwork capes. Shocking pink goes neon. All airy light and very wearable. 
Day 1 – 24 January.
Versace. White space, modernity and strong woman clothes. Monochrome tailoring spliced with vivid blue, orange or neon yellow. Cut -outs and sparkles as usual, optical lines like glittering cobwebs and non- size zero models looking fabulously sexy.