Privacy is Paramount
For many wanting to get away from it all, a statement private island villa is the ultimate prize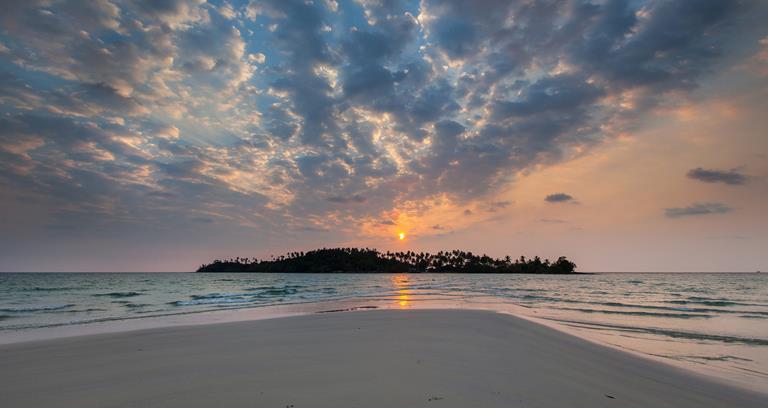 Soneva Kiri Island, in the Gulf of Thailand
Photo: Sphere Estates
Freedom from press attention, discreet security, a lack of planning restrictions – indeed, the ability to shape one's own immediate universe almost at will – combine to make island homes a uniquely attractive proposition. Recent advances in connectivity, both by private air travel and high-speed internet access, have only made this class of home even more alluring.
Jumby is quite simply an island paradise

Jumby Bay, a 121ha private island just off Antigua wholly owned by the 56 shareholders who have palatial villas there, is a perfect example. Residents are predominantly self- made entrepreneurs from the UK and US, of whom ten are believed to be billionaires, and they control everything on the island from the high-speed ferry dock and all planning issues to the 40-room Rosewood, which serves as a country club. On request, the hotel will supply chefs and take care of housekeeping, as well as being on hand with superb spa facilities and a variety of water sports equipment.
Of the residences currently for sale, the pick is Ty Molineux, an eight-bedroom plantation-style estate spread across several villas on 3.2 hectares, with its own tennis court and 20m pool. The slightly smaller six-bedroom Blue Pelican has its own private beach with a dining area ideal for sandy-foot chic entertaining, and there's also a 1.6ha beachfront lot available. Jumby is quite simply an island paradise.
On the other side of the globe, in the Gulf of Thailand, Sphere Estates has an even more exclusive proposition. With its Six Senses spa, treetop restaurant, open-air cinema and lavish beachside villas, Soneva Kiri has been the epitome of exotic laidback travel since opening in 2009. Now, there's an opportunity to buy the eight-hectare private island that lies some 320 metres off-shore. "For the ultra- wealthy, the private island at Soneva Kiri offers a unique opportunity to create a very special residence with absolute privacy benefiting from easy access to all the services and amenities of this luxe resort," says Rob Green of Sphere.
The substantial price includes the island and all the costs of building a 3,000sq m fully fitted residence designed to the very highest specifications using materials from sustainable sources. The home will ideally feature generous outside living and entertaining space with large terraces and dining areas, and of course a pool. Flights from Bangkok to Soneva Kiri take 60 minutes by private plane, then it's a two-kilometre scenic boat ride to the island.
There are similar exemplars worldwide but what all have in common is space, which together with time, are the most precious commodities of all.