A New Breed
Technical advances, innovative briefs and inventive designers are leading major shipyards into creating ever more masterly motor and sailing yachts. Here are four of the best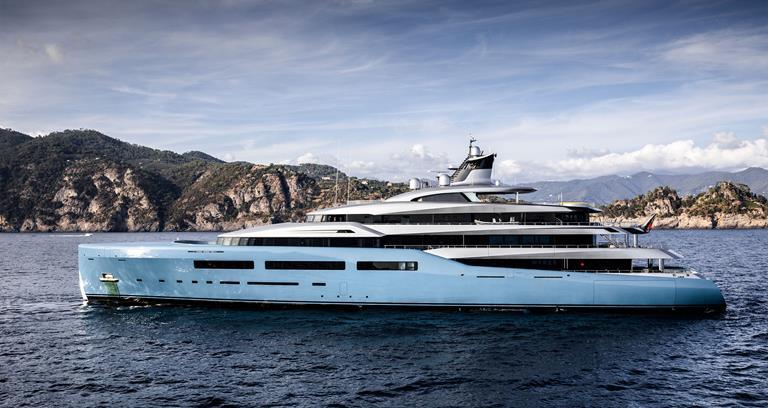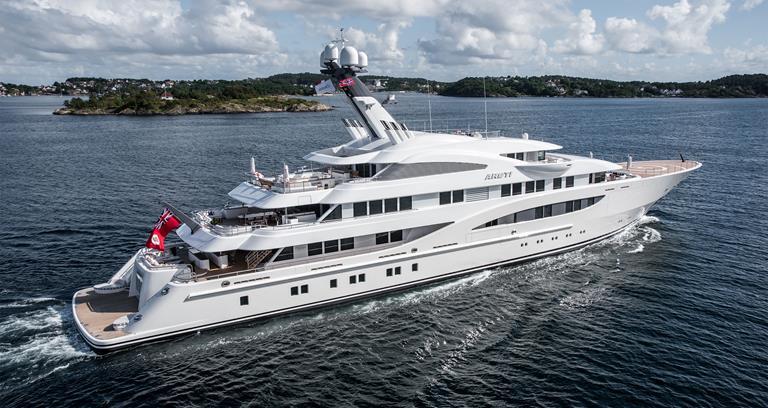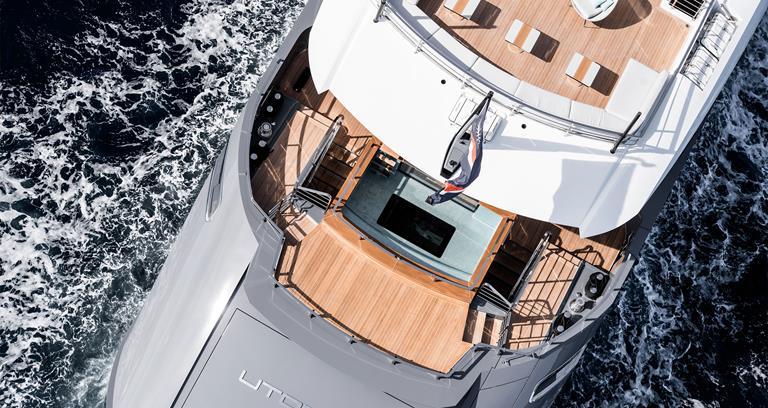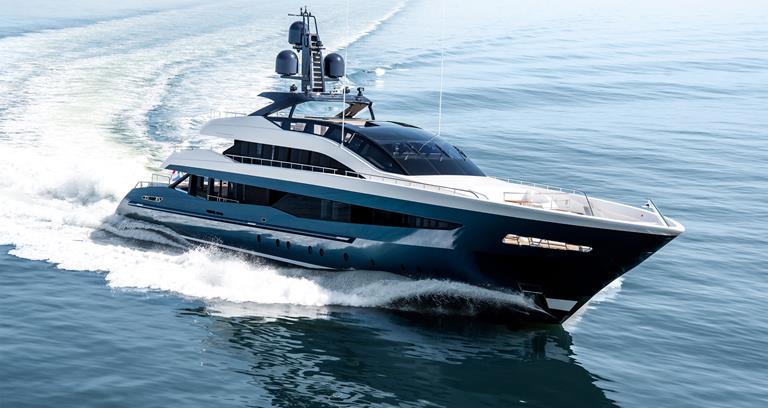 Abeking & Rasmussen: Aviva
On the banks of the Weser in Lemwerder, a small town in northern Germany, Georg Abeking and Henry Rasmussen founded their eponymous shipyard. The year was 1907 – and 111 years later the firm is going from strength to strength. The versatile builder creates everything from pilot and naval vessels to lifeboats, SWATH ships (small waterplane area twin hull) and, of course, some of the most sophisticated private yachts in the world.
Recently, I had the pleasure to see the beautiful motor yacht Elandess, a 74m Harrison Eidsgaard design outside the sheds, almost ready to be delivered. Last year the outstanding explorer yacht Cloudbreak was delivered by Hans Michael Schaedla, the chief executive officer and his team. A contemporary design by Espen Oeino, with interiors by Christian Liaigre, she was one of the most talked about yachts last year and deservedly won multiple awards.
And then there is the yard's 98m flagship, M/Y Aviva. Built for a repeat client who lives on board for at least ten months a year, the brief was extensive, with many original touches such as the first integrated padel tennis court. A big fan of the sport, the owner has such courts in his land-based homes, but now the 20m-long, 10m-wide, 6.5m high space enables him to indulge in his passion even in the faraway destinations he intends to travel.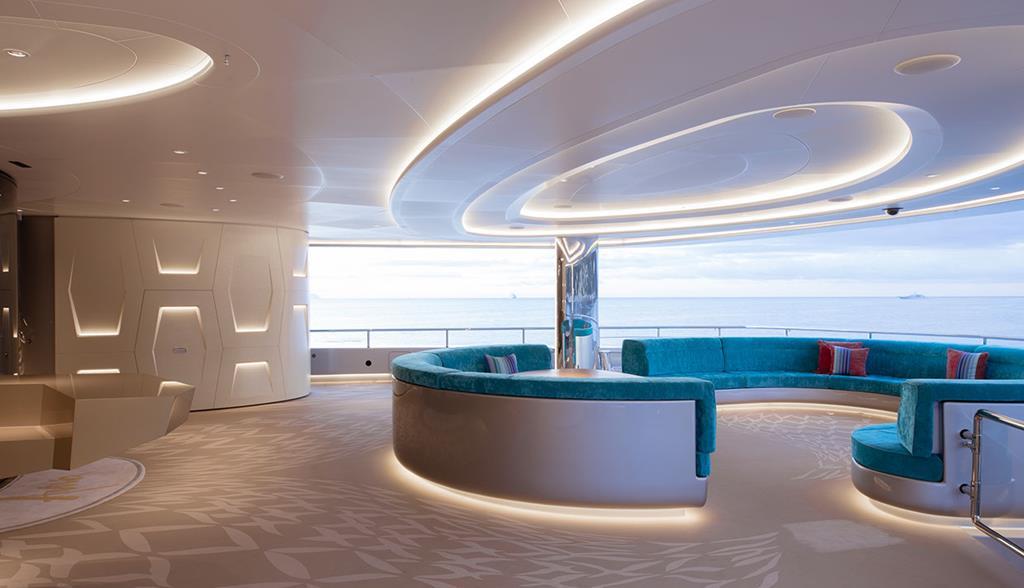 This is the owner's third iteration of Aviva – the first was a 62m Feadship motor yacht, but for the second – a 68m version – he turned to Abeking & Rasmussen. Clearly, he liked what he got and has stuck with the yard for his third yacht. The award-winning Reymond Langton is responsible for the interior and exterior design. Project 6501 holds a sleek and characterful continuous sheer line from bow to stern, with a near plum bow for stability.
The curvaceous blue hull matches the underwater body. The superstructure looks crisp and dynamic, with long twisting facets on the side of the bulwarks, which create a nice contrasting shadow in the paintwork. Particular attention was paid to the mast and the way the exhaust gases leave the yacht, to reduce the bad smell. She accommodates 12 guests and 35 crew and cruises at a maximum speed of 20kn.
Till von Krause, the sales director at Abeking & Rasmussen states: "This is the result of highest workmanship and best communication between the owner and his team during the building period of less than three years." For more on the story of the yard, the Robbe & Berking Yachting Heritage Centre is hosting an exhibition until October 15 dedicated to Abeking & Rasmussen's long history.
Visit abeking.com
Lürssen: Areti
At Lürssen's base in northern Germany, the message is clearly to think big. The family-owned shipyard – now on to a fifth generation of the clan – has 2,700 workers and has been responsible for such giant builds as Dilbar (156m) and Azzam (180m). Over the past 15 years, Lürssen has built 20 yachts between 58m and 90m, and 15 yachts larger than 90m. That's more than any other yard, with 11 of the World's top 20 largest yachts being Lürssen builds.
In June, Centurion had the chance to visit the firm's facilities in Rendsburg. There, in the Lürssen-Kröger shipyard, the concentration is on 60-110m builds, though one of the current projects is in fact the 111m Project Tis. Andrew Winch has designed the interior and exterior for this six-deck leviathan, which has a beam of 16.85m and is scheduled for delivery this winter.
The visit moved on to Blohm+Voss shipyard in Hamburg, which has been part of the Lürssen group since 2016. Known as the main hub for refit and repair within the company, it is also renowned as the yard where Roman Abramovich's 163.5m motor yacht Eclipse was built.
Last year, eight yachts from 50 to 100-plus metres underwent maintenance and modification work at the facility. The tour continued the following day at the Lürssen Lemwerder – the company's main facility – and Lürssen Aumund, the one-time Vulcan shipyard on the north side of the river Weser. The latter has a sizeable dry dock (220m) and a 170m graving dock ideal for the sorts of large builds Lürssen specialises in.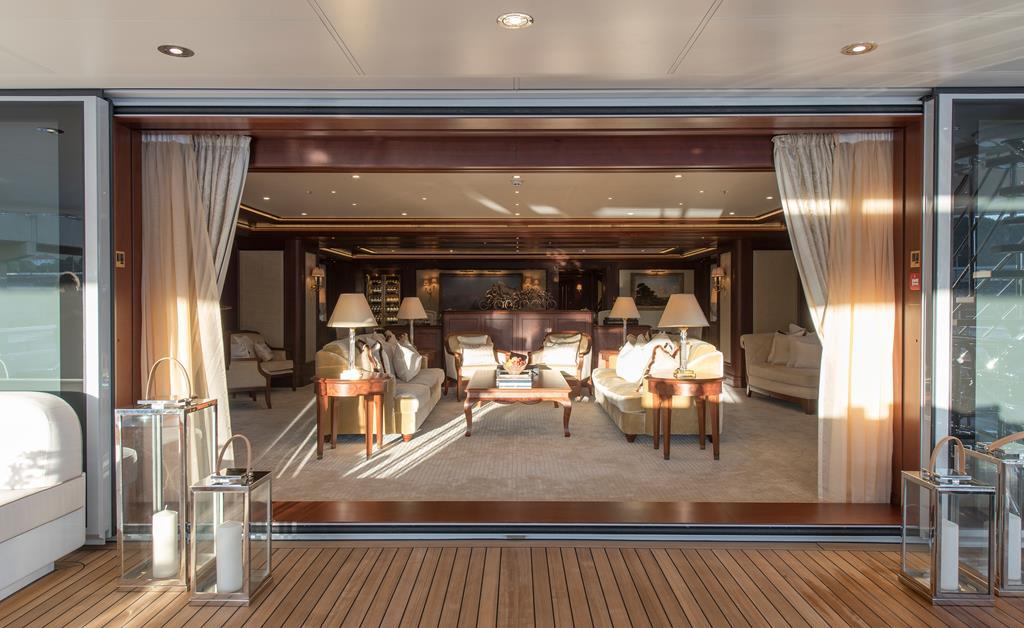 Credit: Klaus Jordan
"We have the right yard for any job, any size, that's the message," says Michael Breman, sales director at Lürssen. And so the company assures us it can also handle "smaller" yachts – all of which brings us to the 85m motor yacht Areti. Winch Design were responsible for the interior and exterior design and rose to the complex challenge of creating her in line with the Passenger Yacht Code, by developing a sleek and perfectly balanced hull design, complemented by a traditional but fresh interior.
With a beam of 15m, Areti is voluminous, yet she remains intimate and cosy. A walnut Steinway Boston piano is placed portside on the main deck. An elevator brings the guests to all levels, including the sundeck.
When Centurion had the chance to step on board at last year's Monaco Yacht Show, the feature that most stood out was the spa, with its handcrafted mosaic from renowned Serbian artist Andjelka Radojevic, steam room, sauna, full-depth plunge pool and a hot tub, as well as "experience" showers with multi-temperature, light, acoustic and aroma settings. Areti's accommodation encompasses an extensive, private master suite and eight spacious guest cabins.
Visit lurssen.com
Rossinavi: Utopia IV
Things are looking bright in the world of Rossinavi these days. Recent launches have included the 49m motor yacht Flying Dagger and the outstanding Utopia IV, a 63m fast displacement motor yacht with naval architecture by Arrabito, which was delivered to its owner in June.

The Viareggio-based yard was working to a very clear brief from the American owner, who wanted a fast yacht with low consumption and a very shallow draft with visits to the Bahamas in mind. As Federico Rossi, chief operating officer of Rossinavi, says: "Utopia IV is a sports design project with the ergonomic space of a full- displacement yacht. Designed exclusively with our American client in mind, the key components and mechanical features are made in the USA, coupled with true Italian craftsmanship."
Those features include a US standard electrical system, necessary as the yacht will be based in American and Caribbean waters. Interest from the US is a recurring theme for Rossinavi, after the yard's attendance at major boat shows in Fort Lauderdale, Miami and Palm Beach.
Hence, the Rossi family have found ways to work with American suppliers and are prepared to meet the US standards, giving them an advantage in dealing with potential clients across the Atlantic.
Credit: Michele Chiroli

Having such a perfect example of it craft in Utopia IV will also help woo new owners. The tri-deck motor yacht has a modern hull and striking interiors, all designed by Enrico Gobbi of Venice-based firm Team For Design. Those minimalist interiors combine walnut and light oak with leather in soft tones, such as ivory and beige, to create a warm and welcoming style.
With three pools, a super beach club and a "touch-and-go" helipad, she certainly lives up to her name. She's technically adept as well: speed was an important tenet of the owner's brief and thanks to 4 MTU 16V 2000 M96L engines, Utopia IV can reach 33kn.

Accommodating 12 guests in six cabins, including the owner's suite forward on the main deck, which has a full-beam private terrace, Utopia IV has matched the expectations set out to Rossinavi.
As her proud new owner states on her official Instagram account (@utopiaiv): "She's finally ready to go. This is an amazing dream. It's a new paradigm in marine architecture and engineering, she's a beautiful vessel, one-of-a-kind. We're breaking new ground here."
Visit rossinavi.it
Heesen: Irisha
Founded on the proven engineering platform of Heesen's 5000 Aluminium class, semi-displacement full-custom 51m Irisha has a top speed of 26.1kn and her radical profile, driven by the owner's desire for something "fairly aggressive and dynamic", gives her a distinctive edge on the water.

The exterior and interior were designed by Harrison Eidsgaard and the award-winning Satori hull has been adapted to meet the owner's specific requirements. "Irisha functions for this owner essentially as a day boat," says Ben Harrison. This key element to the brief is best exemplified by the sporty raised wheelhouse – undoubtedly Irisha's most impressive design feature. Completely enclosed in curved glass it is "reminiscent of the cockpit on an F-16 fighter jet," says Harrison.

Encompassing a split-level design, it has three steps up to the 13m-long sun deck where a large bar with eight seats creates flybridge-style alfresco dining. The front four seats swivel to provide views down into the wheelhouse and out to sea. In addition, a generous dining table on the main deck seats 14 guests, extending to accommodate up to 22.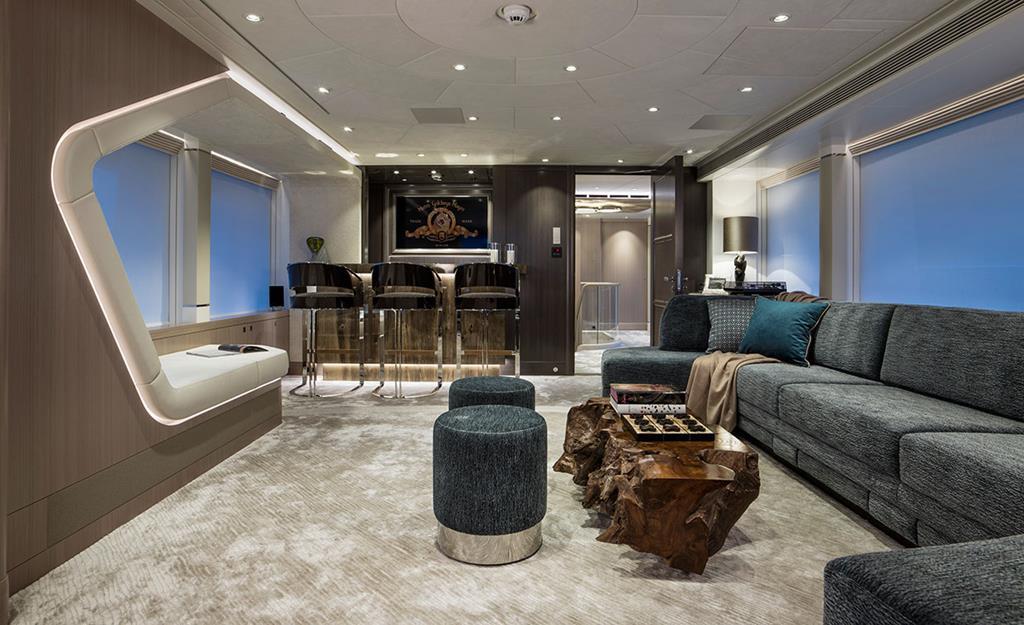 Credit: Dick Holthuis
A formal saloon is not to the owner's taste and has been replaced with a main deck winter garden with sliding glass doors that provides an all-year-round indoor/outdoor casual living area. It is also a masterful move by Harrison Eidsgaard to create space while keeping the yacht under 500GT.

A unique beach club area with sauna and day head creates a secluded owner's area aft, while Irisha's metallic Pacific blue hull singles her out from afar. A chic understated interior features varying shades of light and dark grey, with onyx, marble and stainless-steel finishes.
Architecturally designed lighting focuses attention on key areas using four harmonised settings – such as a hand-felted silk bedhead by Claudy Jongstra in the owner's suite – while Italian-inspired plaster work by DKT winds up the complex atrium staircase, which also boasts  toughened glass balustrading and long sight lines up the three decks.

While 50m-plus yachts such as Irisha form Heesen's core fleet, its latest design, Project Cosmos, is a yacht of firsts. At 80.07m, 1,700GT and with a top speed of 29kn, not only will she be one of the world's largest and fastest full-aluminium motor yachts with conventional propeller propulsion system, but she will also be the largest yacht ever built by the Dutch yard.
Visit Heesen.com
(Heesen by JULIA ZALTZMAN)