The Goring Family Secret
In conversation with Jeremy Goring, on the upsides and oddities of running one of London's most iconic hotels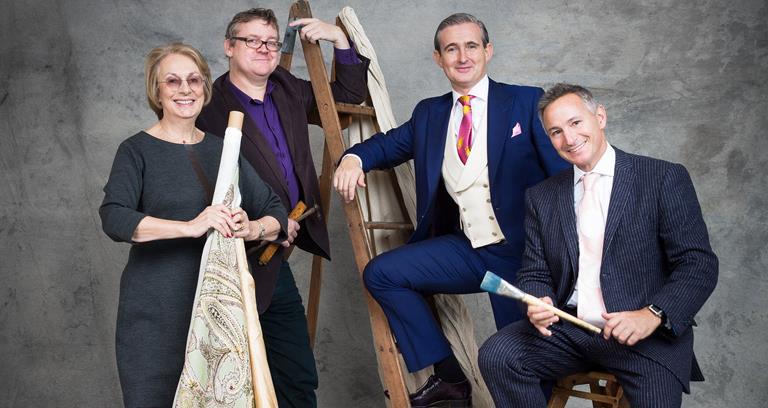 Jeremy Goring, far right, with Tim Gosling, Russell Sage and Nina Campbell
Photo: Hugo Bernand
When The Goring Hotel entered London's luxury hospitality scene in 1910, it was the actualisation of O.R. Goring's lifelong dream: to open the world's first hotel with the unheard-of opulence of an ensuite bathroom in every room. It would become – and still is – the only hotel to receive a Royal Warrant by appointment to HM The Queen for Hospitality Services.
Add to this a recent Michelin Star for The Dining Room and, following an extensive five-year refresh, a freshly frescoed Front Hall complete with whimsical English parkland scene, and the hotel has shown remarkable adaptability, all without shirking the charm upon which it was built.
Still more impressive is that, at more than a century old, the hotel is still in the hands of the family that founded it, overseen since 2005 by O.R. Goring's great grandson Jeremy Goring. Here, Centurion Magazine speaks to the Goring-in-charge about the family secret and the hotel's most memorable moments.
The Goring is the only historic London hotel that is still run by the family that built it, so… what's the family secret?
There is a slight madness in the family. This has led to differences here at The Goring, where we dare to do what many of the corporate owned hotels do not. Our number 1 rule is the opposite of a rule: we let our staff be themselves (no name badges or phone "spiel"… just make sure the guest is absolutely delighted). This gets us into trouble occasionally, but overwhelmingly it leads to our guests feeling truly at home. Number 2 rule: enjoy it! And we do.
What is your favourite room/area to spend time in at The Goring?
I love spending time in our lounge and bar – there's always a great atmosphere and it doesn't feel at all like a hotel bar because it's always full of Londoners. Even though we serve drinks, and alcohol is evil(!), I think we perform a social function by being somewhere where people can get together and have a good time. It's great to witness. But I also like hanging about at the pass and watching Chef Shay Cooper's unbelievable food being plated up. He is a British genius, but his signature is simplicity.
What would you say is the most interesting thing to happen at the hotel – either in its history or during your time there?
Some of my favourites, past and present, might be: Winston Churchill holding Prime Minister Daladier (France) up by the lapels; the Royal Wedding; my father's pants falling down in the restaurant (a close tie with his "fight" with Russel Crowe); the Beach Bar (shut down after 2 weeks due to over popularity / neighbours complaints); a west African president being deposed while at one of our cocktail parties; being dressed down by Lady Thatcher about my choice of chandeliers (Jeremy, is it Christmas already?)
What is the strongest legacy that your great grandfather, O.R. Goring, left behind?
He was an innovator, who always looked forwards not backwards. He did eat too much, though.
Australia, Asia, Central America and the Caribbean – you've managed hotels practically everywhere. If you were to open a new one anywhere in the world, where would it be?
London is the most eclectic and exciting city I know but for me, Lisbon, with its faded grandeur, bustling streets and Oceanic heritage, is the most underrated city in the world.
As a London native and hospitality insider, what is the number one tip you would give to travellers in London?
August. Incredible value, empty, warm, everybody in a good mood.