A Japanese Infusion in Sydney
Chef Nicholas Wong of Sydney's buzz-worthy Cho Cho San talks tradition and innovation at this antipodean izakaya
Sydney is a city that plays fast and loose with its culinary hot spots. Unlike Melbourne, where an inky, hole-in-the-wall Italian has the patina of decades-long custom, Australia's flashiest city heralds the new and unexpected above all. Bijou neighbourhood Potts Point grabs the brass ring with white-hot, minimalist cocoon Cho Cho San – named after Madame Butterfly's heroine, but with the promise of a much happier ending.
Inspired by Japan's after-dark watering-hole 'izakayas', where sake and beer become the grace notes to delicious small plates, Chinese-Vietnamese chef Nicholas Wong (formerly of Cantonese Billy Kwong) puts a modern spin on the concept, frying chicken in rice bubble batter and re-imaging miso in an eggplant dip. His duck smoked in jasmine tea and spanner crab chowder are new power players. Le tout Sydney is flocking to the George Livissianis-designed monastic white-on-white space to try Wong's witty riffs on Japanese cuisine.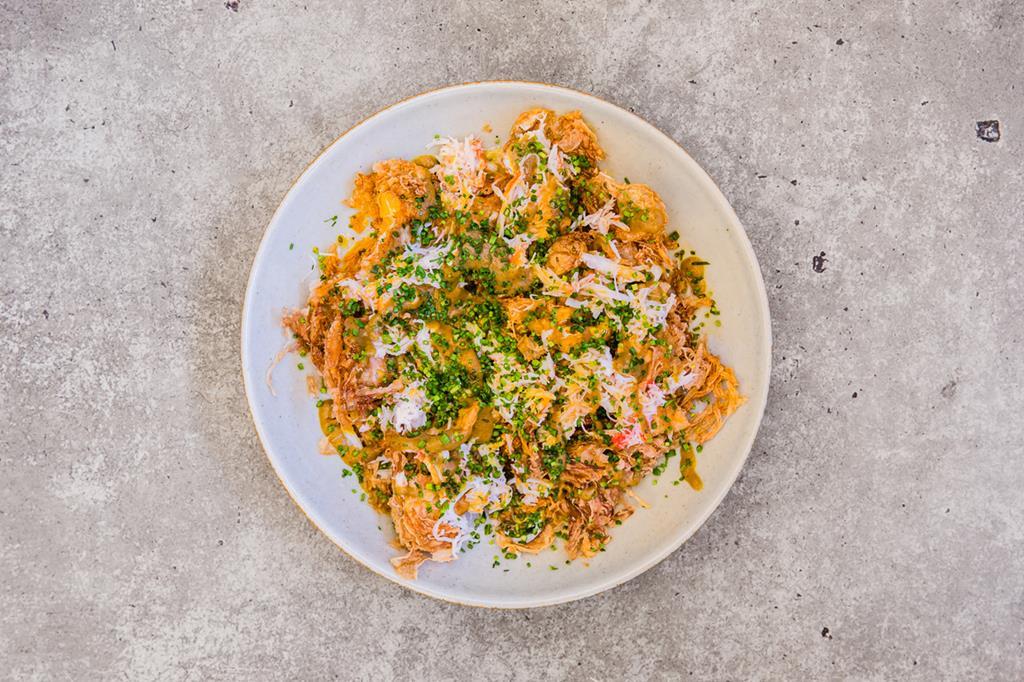 "One of my first memories is of making traditional Burmese Laksa with my father and grandmother – I loved her steamed egg cake and my mother's Spaghetti Bolognese! My father taught me a lot about cooking, our culture of balance and generosity – and most importantly how to have fun. I started taking cooking more seriously as an art form by the time that I was 20.
The important philosophies behind Japanese cuisine are soft touches, presentation and respect for tradition. So we tried to replicate that element of simplicity yet attention to detail so ever-present in all aspects of Japanese culture, with the Australian warmth of a welcoming space that is comfortable, fun, even exciting.
Cho Cho San's menu is a culmination of influences from the traditional izakaya style and the modern, adventurous Sydney dining scene: by putting our own unique twist on traditional dishes, we can tantalise diners with new flavours, textures and techniques.
The biggest challenge has been the expectation of Sydney diners that Japanese means sushi, which we don't even offer. So it's an invitation to explore the unknown… Sea urchin is my vice – I love this underestimated ingredient!
A unique Cho Cho San touch: we cure and smoke our own katsuo boshie (smoked bonito). I will always have raw seafood and grilled meats on my menu; the soft serve and Udon Noodles are also personal favourites. The pure, white design and soothing ambience echoes a clean, crisp and health conscious menu.
Our menu showcases 25 different styles of sake, and we are all learning more and more about this amazing and versatile beverage. The beer, sake, wine and cocktail list are completely tailored to our cuisine, so we keep the serving of our sake simple to let the flavours speak for themselves.
With more and more cooking shows such as MasterChef on TV, Australian diners are intrigued by what's happening in the kitchen, the backstory of the producers, the provenance of the ingredients etc. This translates into a real appreciation for presentation and technique. Our clientele, who aren't just local and come from all walks of life, have opened up to Cho Cho San's new flavours. My heart lies with the Japanese palate – If I had a last meal on earth, I couldn't do better than grilled seafood on the Habachi with friends."