Perfecting the Brew
We talk to the creator of the Tea Humidor, Åsa Eriksson-Ahuja, about her inspiration and why the preservation box is pioneering
What was your initial inspiration for the Tea Humidor?
The idea for the Tea Humidor came to me when I was looking for a unique gift for my tea-loving husband. He would regularly take his teas with him on his frequent travels, but often noticed a marked deterioration in quality when they were exposed to very dry or humid conditions. Hence, I realised that the world of tea was in need of an equivalent to the cigar humidor – something functional yet equally iconic and connotative of style and elegance, while specially adapted to the specific challenges of preserving tea.
From the initial concept through to the finished product, how has the Tea Humidor evolved?
Following the enthusiastic response of friends to the original prototype, it became clear that we had an exciting innovation and new solution on our hands. This inspired Lotusier to dedicate four years worth of research and development to perfecting the design and functionality of the Tea Humidor.
Exciting developments ranged from sourcing exquisite marquetry skills for designs in fine woods, to finding the ideal way to disperse humidity within handmade crystal containers. We then designed regionally themed collections, inspired by our extensive travels, to celebrate the world's most prominent tea-drinking cultures, along with our special limited edition for Centurion members.
What design challenges did you face?
Multiple challenges tested our ingenuity. While cigar humidors typically concentrate humidity at the top of a humidor, we wanted to ensure an even distribution and absorption of humidity throughout each container. This was resolved by drilling special air channels through the crystal at each corner, which allow the humidity to flow up from the base and disperse evenly.
The humidity also needed to be measurable, as our Tea Humidor contains a special two-way control system that can add or reduce humidity. We devised an inventive lid for each container, fitted with a bespoke German-made hygrometer that allows the humidity level to be monitored, with a two-way humidity sachet placed discreetly in the base of the container.
Other challenges included finding a robust yet portable design, and ensuring no cross-contamination of flavours and scents between the different teas.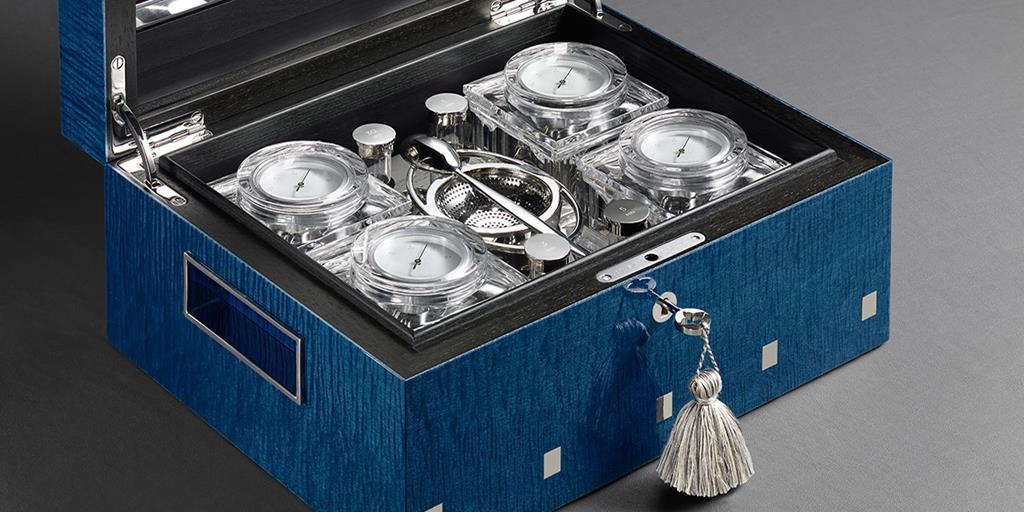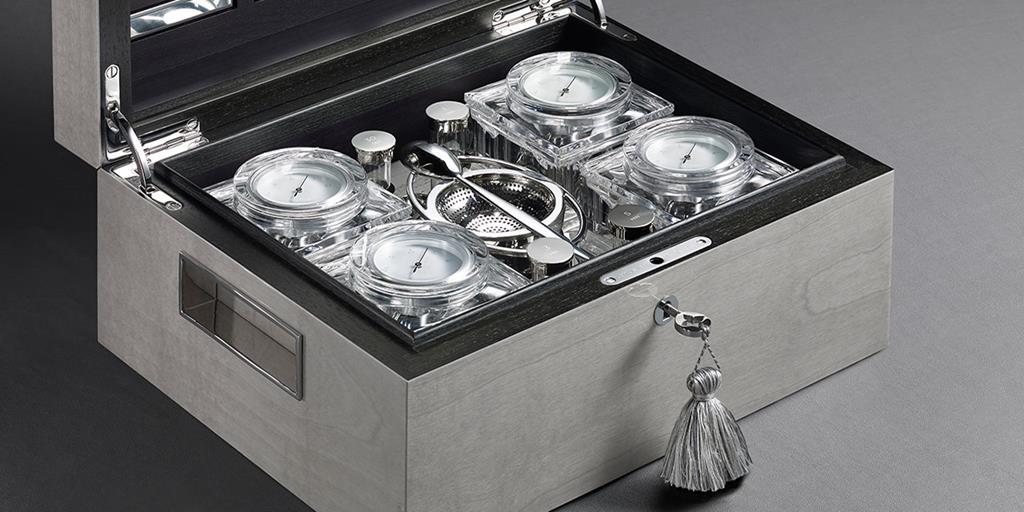 What makes the Tea Humidor stand out versus other tea-storage solutions available today?
Both in its technical and design features, tea storage has never been considered to this level before. For the first time, tea lovers are now able to adjust and monitor the humidity levels at which their teas are stored, while keeping their favourite teas in one purpose-made home, without the risk of cross-contaminating flavours.
Maintaining optimal humidity is essential, and often challenging, in varying climates – the Tea Humidor will preserve the nuances and rich flavours of fine tea for much longer than conventional solutions. 
With its striking design and refined materials, the Tea Humidor is also, quite distinctly, an objet d'art in its own right. It uniquely manages to elevate the presentation as well as preservation of tea – making it a wonderful accompaniment to the serving of tea and a delightful ornament, not to mention talking point.
As a world first, the Tea Humidor is the ultimate product for tea connoisseurs. How has it been received so far?
We are thrilled by the response, and have received many pre-orders and enquiries. It has clearly captivated diverse interest groups – those with a predilection for luxury and craftsmanship, as well as those with a strong affinity for design and interior spaces. The yachting community has shown exceptionally strong interest, as have, of course, tea aficionados.
We are also proud to have earned an official endorsement by Madame Yu Hui Tseng, owner of the legendary Parisian tea salon, Maison de Trois Thés, and probably the foremost tea connoisseur in the Occident – her expertise is routinely sought by Michelin-starred chefs, celebrated winemakers, and renowned chocolatiers among others, the world over.
Click to see the Limited Edition "Noire" Tea Humidor, available exclusively for Centurion Magazine readers
Visit lotusier.com