In-flight Fine Dining
Fly across the globe with Qantas and five-star dining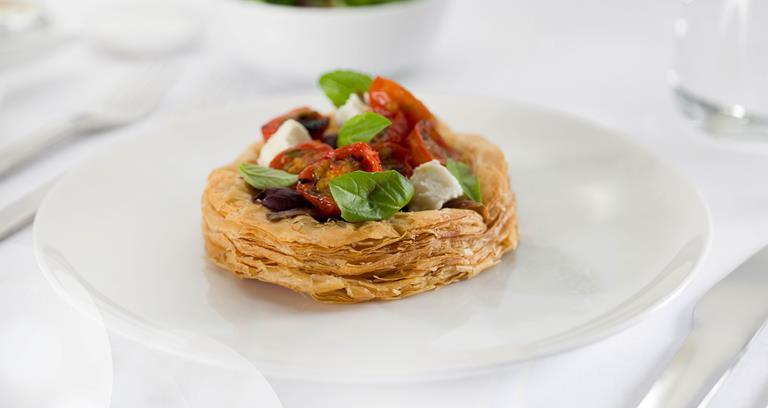 Caramelised onion tart with anchovy, roasted cherry tomatoes, goat's feta and basil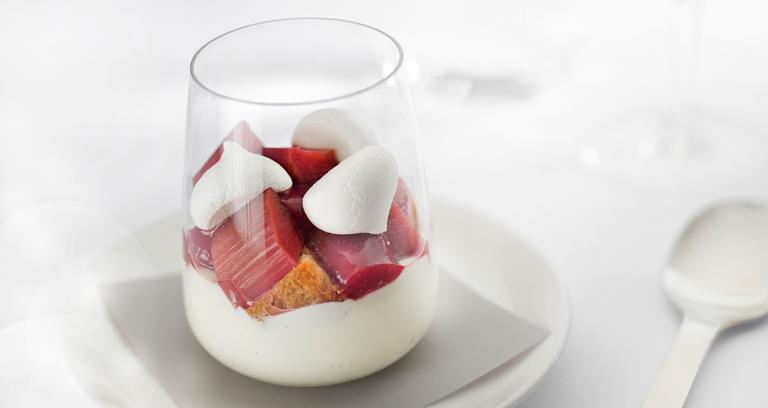 Gingerbread with baked rhubarb, meringue and vanilla yoghurt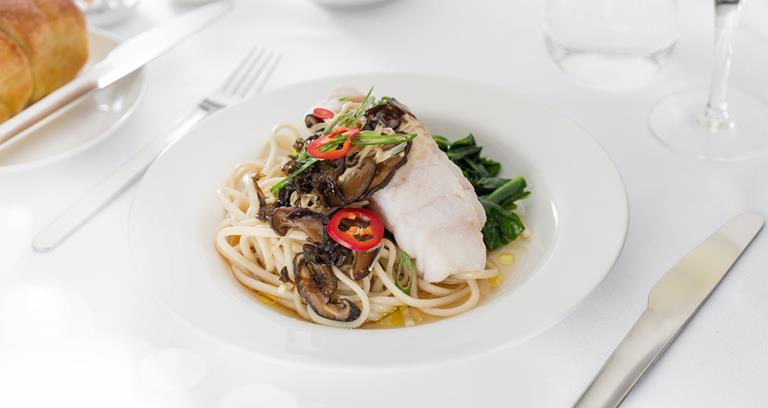 Jiangsu-style steamed blue eye with bacon and mushroom broth, wheat noodles and Asian greens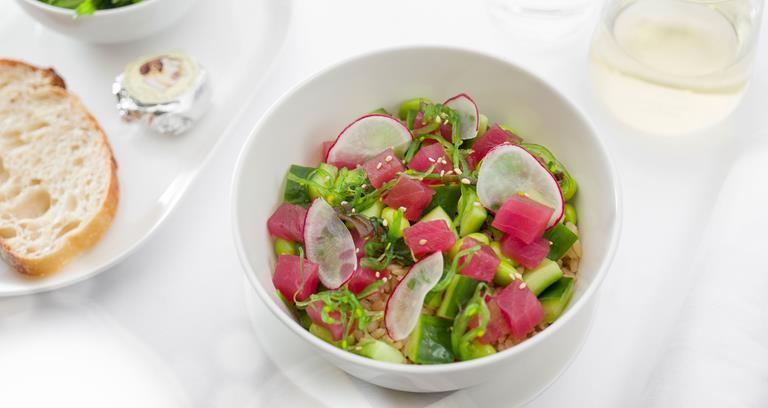 Salad of seared tuna with brown rice, edamame, cucumber, radish and sesame soy dressing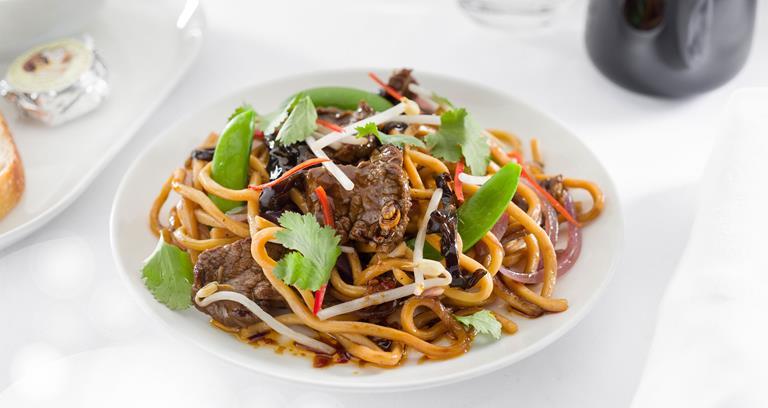 Stir-fried beef with oyster sauce, hokkien noodles, shiitake, black fungus, sesame and sugar snaps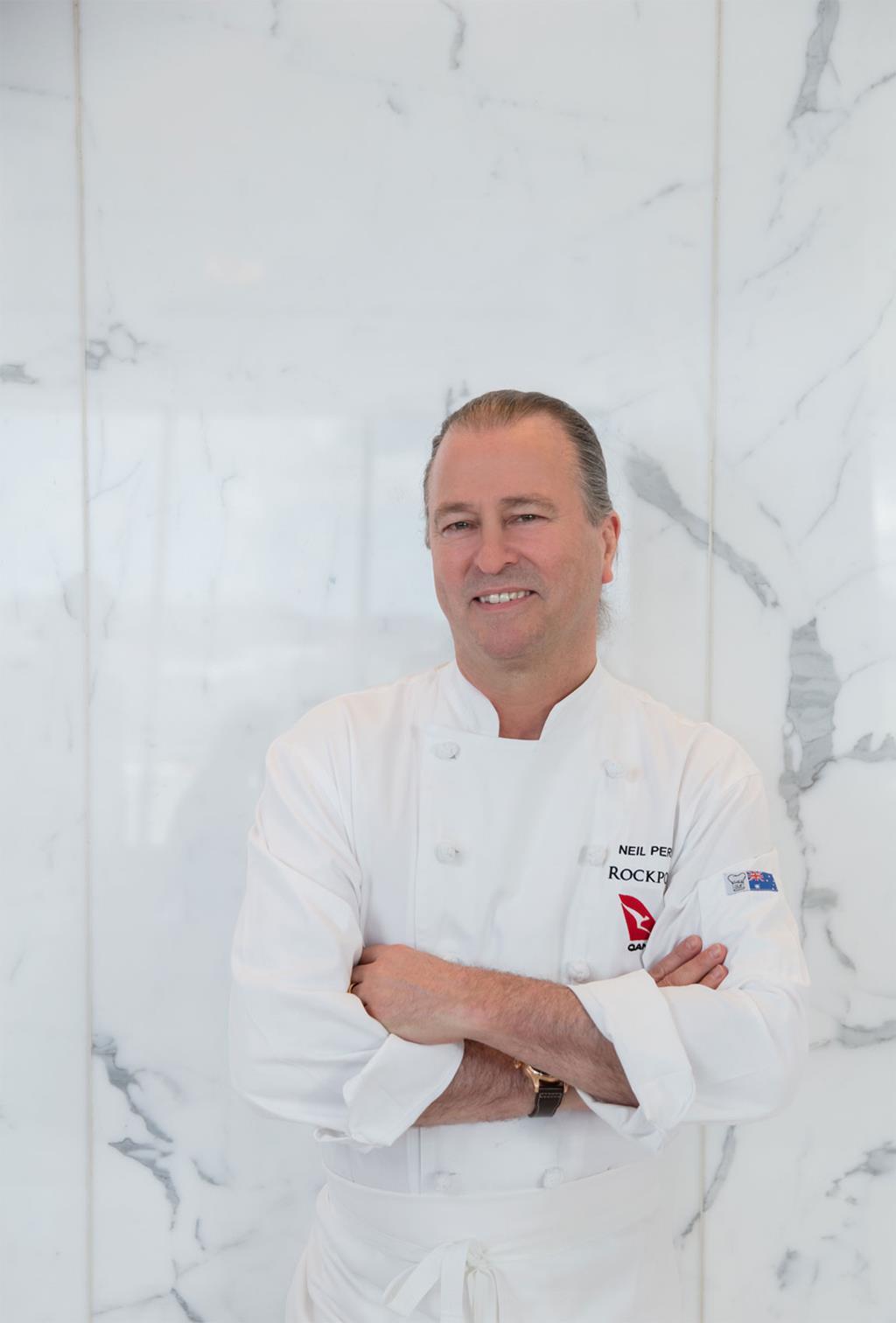 Qantas' Creative Director of Food, Beverage and Service Neil Perry
Sponsored by

How do you make the best possible in-flight dining experience? Utilise fresh seasonal ingredients to create a large, varied menu combining dishes from around the globe with customer favourites, then pair it with flawless service and thirst-quenching beverages. Qantas is on to something.
Neil Perry (of Rockpool fame) and the airline have joined forces once again to celebrate 20 years of fine dining and flying. Guests can enjoy main plates, smaller dishes, or even a tasting menu (on selected services), all infused with sustainable, locally sourced ingredients. Passengers in First departing from Sydney can also enjoy Rockpool's seasonally inspired plates, which change every four to six weeks.
And to accompany the delicious dishes, you can enjoy either champagne, a cocktail or juice as a pre-take-off drink in both First and Business. If you're not sure what to pick, ask the Sommeliers in the Sky – cabin crew trained in all aspects of wine service. The selection of tipples showcases both the diversity and quality of the Australian wine industry, from cutting-edge bottles to classic wines.
Guests can also choose snacks from the in-flight bar – you can help yourself or have them prepared and delivered by the crew. Don't miss the signature chicken schnitzel and Swiss cheese toasted sandwich (it's as delicious as it sounds).
Choice is the name of the game – not just what you eat, whether that's a light snack or a three-course dinner, but when you eat too. You can choose exactly when you sate your appetite, allowing maximisation of sleep and comfort. This choice is available even before you board the plane, with Qantas Menu Select allowing pre-selection of your in-flight meal. If you would rather sleep than eat, this is also an option through menu select; the cabin crew will make your bed directly after takeoff.
Qantas and Neil Perry's new menu is now available in-flight, setting a new benchmark for dining on board.