Aesthetics with Conscience
Facing the complex task of dealing with social and environmental concerns in a complex and competitive industry, high-fashion brands are proving that green is still very much en vogue
Sponsored by

A decade ago, we were being exhorted to go green to reverse global warming and save the planet. Even the government promised "green", low-carbon policies. Like so many media-friendly movements, it proved something of a fad, partially debunked through accusations of "greenwashing" (paying lip service to the idea but not doing much) and the difficulty, as we have recently seen, of keeping all the leaders of big Western countries onside.
So, the green ideal has gone somewhat quiet, especially as the huge complexity of the task has become apparent. But it has an optimistic legacy in the number of eco-conscious people who treat this ideal as part of their daily lives, not just as a theory but in their purchasing habits. In view of their customer's increasingly green attitude, top-end brands are making major efforts to meet their demands. Work has been going on, not just on green issues, but on wider environmental and social responsibility aspects. Now these are bracketed under the banner of sustainability, the new and hopefully lasting ideal to which luxe companies increasingly aspire and give increasing urgency to by issues like the oceans' burden of plastic and more frequent extreme, life-threatening weather. 
Away from the runway, lifestyle brands in other industries are making a more concerted effort to combine an elegant aesthetic with environmentally friendly technology.
The part played by luxury fashion industry in all this is incredibly complicated. There are many ways to be sustainable, from striving for pollution-free processing to ensuring proper pay and conditions for workers, and very few brands yet achieve on every level. Fashion has long supply chains, so occasional errors in hard-won integrity are possible, and make top-end brands wary of broadcasting their sustainable credentials. Even someone as trusted in this area as Stella McCartney – whose new London flagship, with its anti-pollution air conditioning, recycled waste-paper walls and recycled-glass fittings, can legitimately claim to be London's most sustainable store – admits that not all areas of her production are sustainable yet, though she is exemplary in such fields as making fully sustainable high-fashion trainers.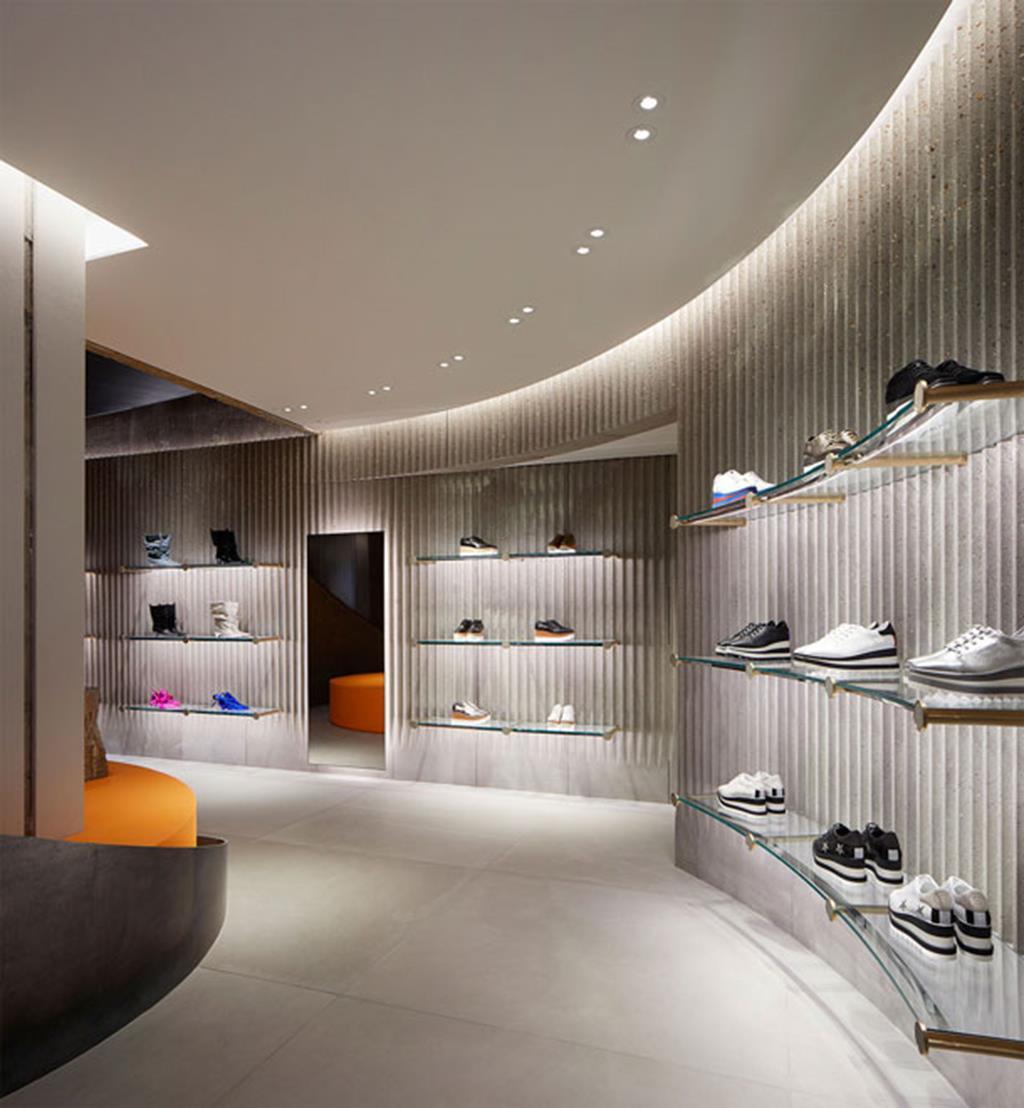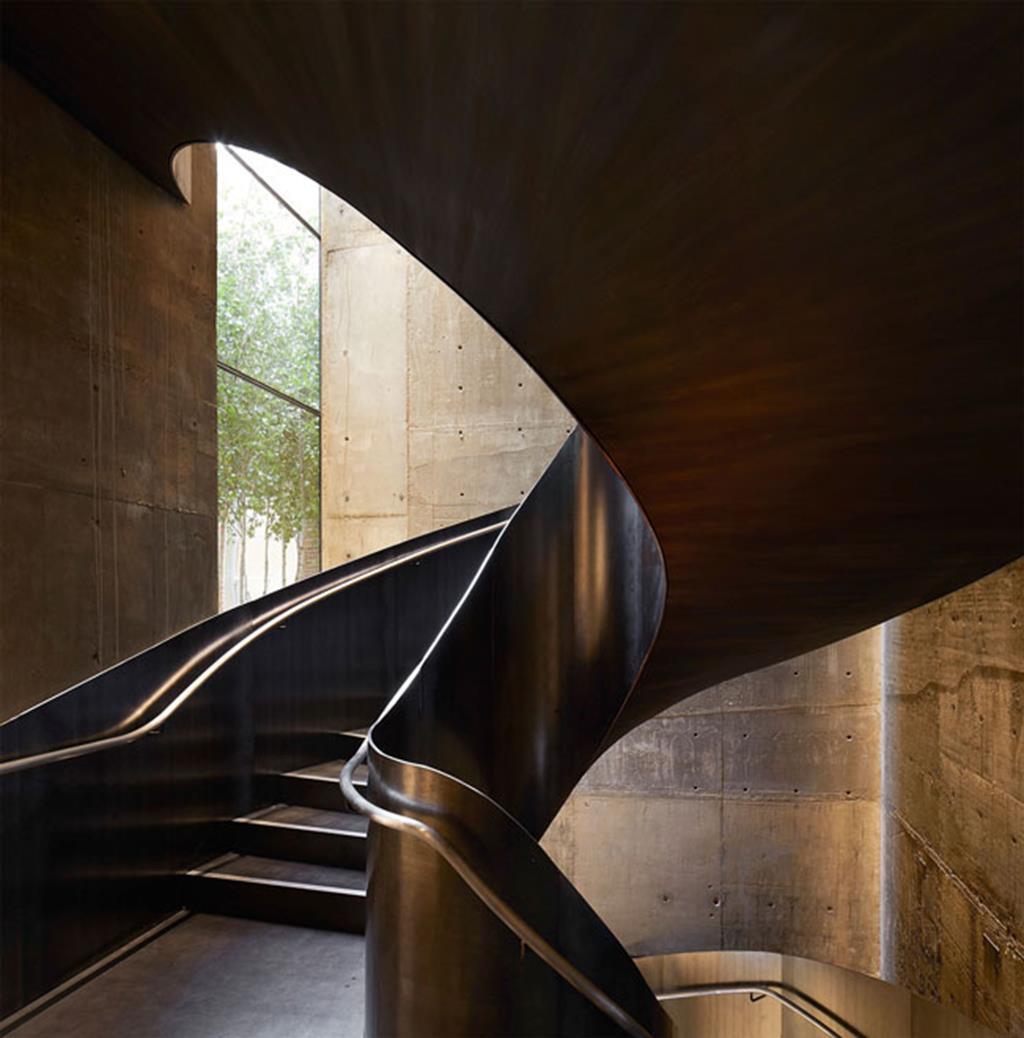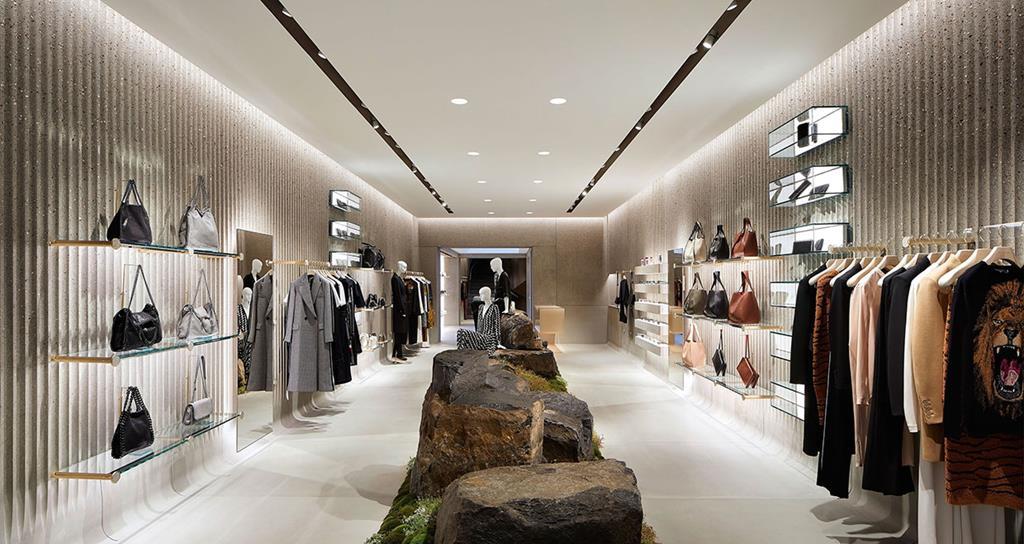 Many of McCartney's rivals have taken renewed steps towards sustainable fashion. Bottega Veneta's specially built Italian factory has won many awards for its carbon-neutral and sustainable design, while Ermenegildo Zegna has been practising sustainability and social responsibility since the 1930s, when its namesake founder created a forested park in the mountains near his factory for the benefit of his workers, planting hundreds of thousands of trees; it is now a public reserve.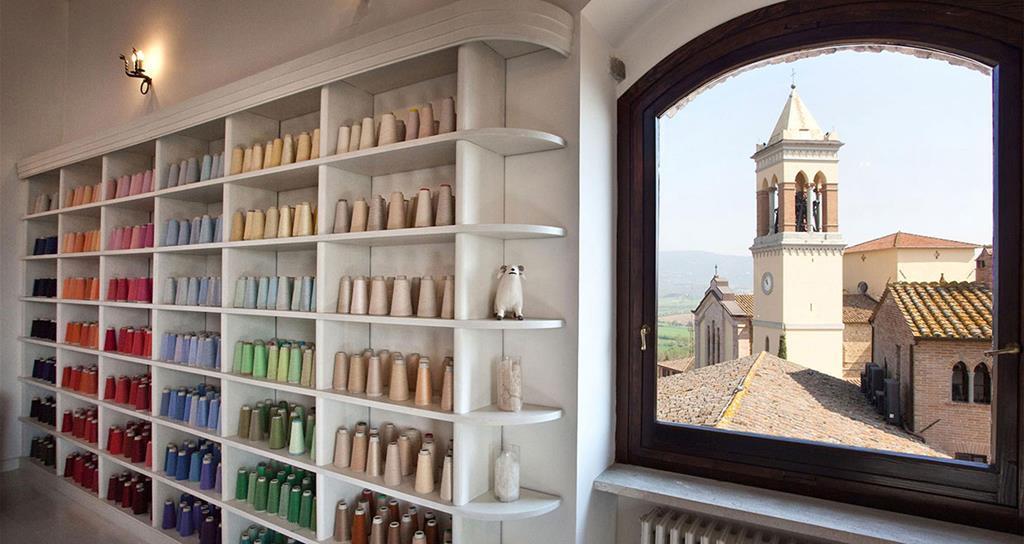 Spools of colourful cashmere at Brunello Cucinelli's headquarters in Solomeo, Umbria
Indeed, it seems that Italian brands have taken the lead in luxury sustainability, perhaps because many remain close to the artisan ideal and are involved in fabric creation where sustainability can be built in. This year cashmere designer Brunello Cucinelli celebrates forty years of his brand founded on sustainable principles, in the belief that any brand must respect the land where it is built, and its inhabitants. He has restored an abandoned village, adding public cultural facilities such as a theatre, and is also restoring buildings in nearby Norcia, badly hit by earthquakes last year. All his fabrics come from sustainable sources, with embellishment added by hand locally. Loro Piana is another famous fabric brand that runs conservation projects in several countries where it sources yarns, including in Mongolia, where it is instituting new methods of cashmere-goat rearing to prevent overcrowding and soil erosion, and in the Andes where it has established a reserve for the rare vicuña.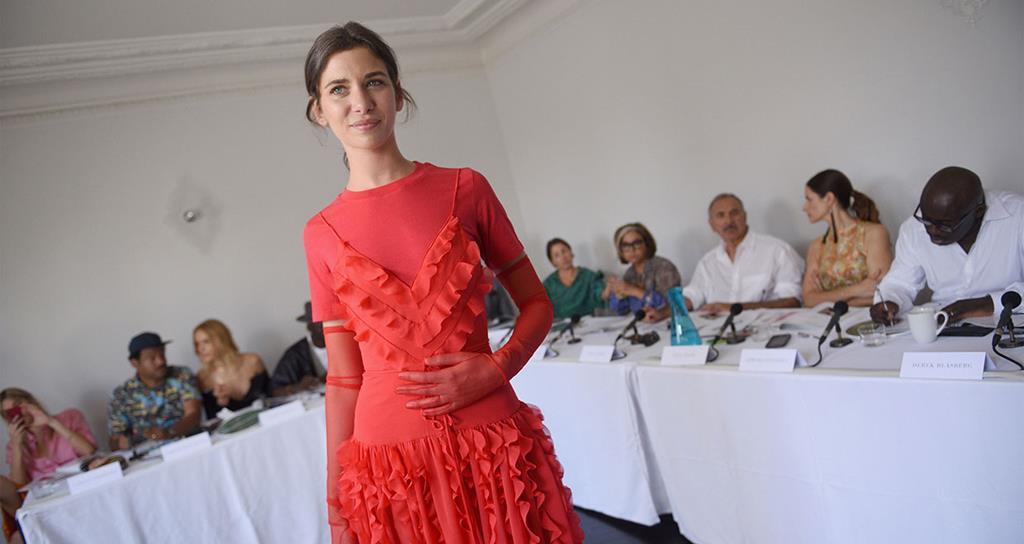 A design by Nicola Brognano, one of the finalists of the 2018 Green Carpet Fashion Awards
Italy is also the home of the Green Carpet Fashion Awards, founded by leading sustainability campaigner Livia Firth, who has her own consultancy firm dealing with the issue, plus impeccable Hollywood credentials through her actor husband Colin. As well as rewarding top names deemed worthy, the awards also have a section for young designers working in the field. Entries flock in from around the world and show great inventiveness – one finalist this year makes beautiful evening gowns out of recycled hemp coffee sacks, decorated with Swarovski crystals. It is often small, youthful brands who push the boundaries in fabrics, prepared to take on fibres less associated with luxury, such as bamboo (which is grown by natural, pesticide-free methods but does entail a small amount of chemicals in its production), the best-quality, supersoft organic cotton used for complete ranges by small brands like New Zealand-based Kowtow, and the return of linen, back in focus because of its "green" processing and the natural or vegetable-dyed colours it frequently comes in. 
Away from the runway, lifestyle brands in other industries are making a more concerted effort to combine an elegant aesthetic with environmentally friendly technology. Take LG's 2016-launched LG SIGNATURE, whose products aim to minimise the impact on the environment, while at the same time providing lifestyle-enhancing, energy-saving innovation. The LG SIGNATURE TWINWashTM Washing Machine keeps the use of detergent to a minimum through an auto dosing function, washes delicate fabrics such as linens in the TWINWashTM Mini, and even tracks the amount of water and electricity consumed via LG SmartThinQ technology. Combined, these technologies provide insight into one's true ecological footprint in real time – and a chance to adapt our consumption.
In addition to environmental awareness, some fashion brands add a philanthropic angle that gives them double appeal. SEP Jordan uses natural Italian linen to make shawls, beach towels, bags, cushion covers and table linen, all embroidered with elegantly geometric, Islamic patterns by Syrian craftswomen in Jordanian refugee camps. Veja makes sneakers in Brazil using a proportion of wild Amazon rubber in the soles, with uppers and linings in organic, fair-trade cotton or recycled plastic, cotton waste or polyester, and returns profits to the communities involved – it has become the sneaker brand of choice for the sustainability-conscious. Veja also uses some leather – traceable Brazilian hides and by-product tilapia skin from fish farms – tanned in a way that avoids the production of toxic oxidised chrome.
Meanwhile the rise of "vegan" leather from bag brands like Canadian label Matt and Nat or Italian brand Noah is a sustainability success story, as is the use of "ocean" plastic as the new alternative to the recycled plastic bottles that brands such as pioneering sportswear company Patagonia have used for years.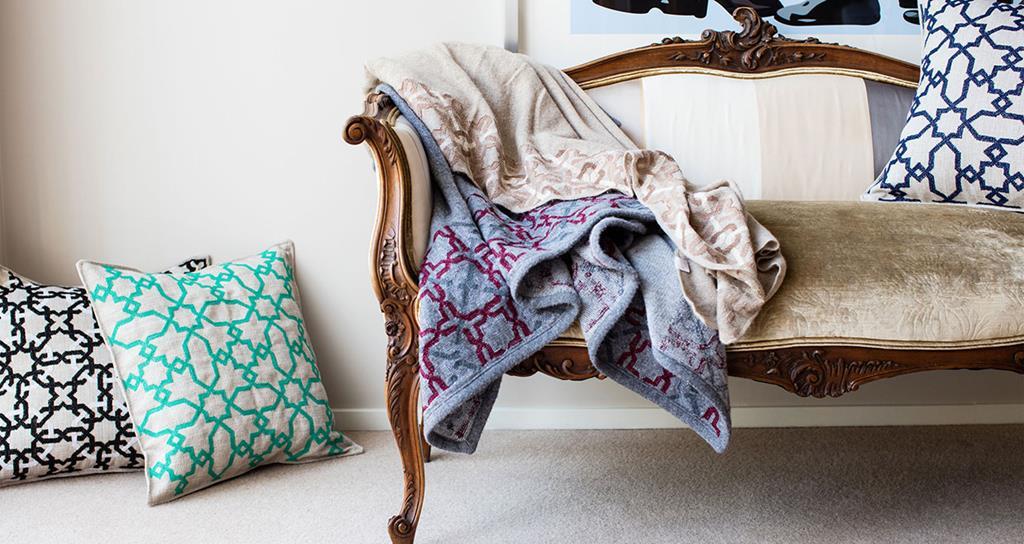 SEP Jordan's natural Italian linen homewares
But there are questions. When these recycled items themselves wear out, will the plastic then end up in landfill, back in the sea or as minuscule particles in our water supply? And the processing of some "vegan" materials is not environmentally friendly. There are moral issues too: fake fur is now far more socially acceptable than the real thing, but research by a Belgian laboratory shows that it does not degrade in landfill whereas real fur quickly biodegrades and disappears. There is no doubt that sustainable practice is the way forward for the fashion industry, but how both brands and consumers interpret it is very varied. It's a matter, for both, of consciousness and conscience.
To read more about the LG SIGNATURE TWINWash Washing Machine, visit our product showcase. Or head to LGSIGNATURE.com to find out more.