Ketchup by Ducasse
Alain Ducasse reveals his signature ketchup recipe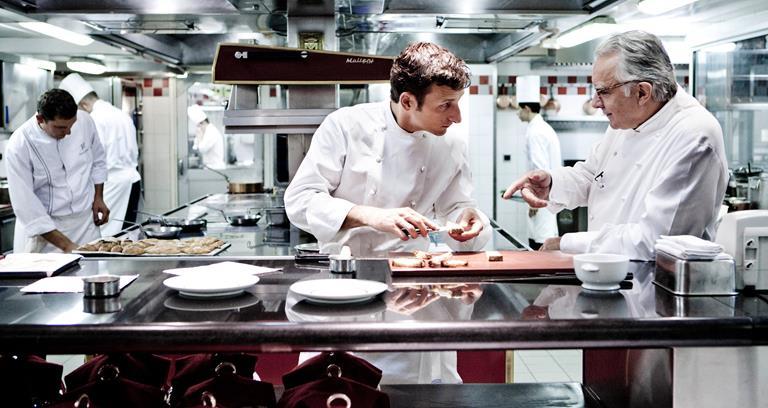 Alain Ducasse with Christophe Saintagne at the Plaza Athénée
Photo: Pierre Monetta
Super chef Alain Ducasse has confessed his culinary kryptonite: ketchup. Of course, as a spokesperson for a healthy, mindful diet, he can't very well scarf down loads of the sugary stuff you find on grocery store shelves. No, he's come up with a recipe all his own, included in his book Nature. Simple, Healthy and Good. Read the recipe here.
Alain Ducasse's Signature Ketchup makes approximately 200g
Ingredients:
3 ripe tomatoes
3 cm fresh ginger
Half a stem of lemongrass
40g caster sugar
1 teaspoon Chinese Five Spice blend
2 tablespoons sherry vinegar
2 teaspoons honey
2 whole hot chillies (piri piri)
Method:
1. Blanch and deseed tomatoes, carefully removing their juice and chopping them.

2. Peel and thinly slice ginger and lemongrass.

3. Put caster sugar in a saucepan and heat until it turns a light amber caramel. Then add the tomatoes and stir well.

4. Cook for 2 to 3 minutes.

5. Then add the ginger, lemongrass, Chinese Five Spice blend, sherry vinegar, honey and hot chillies. Allow to simmer for 15 minutes, stirring frequently.

6. Take out the chillies, then blend the preparation until nice and smooth.

7. Then filter your ketchup in a fine conical strainer and store in a cold place in a plastic bottle (or carefully clean and reuse an old ketchup bottle).