In Conversation: Marva Griffin
The founder and curator of SaloneSatellite talks childhood, Milan and innovation in design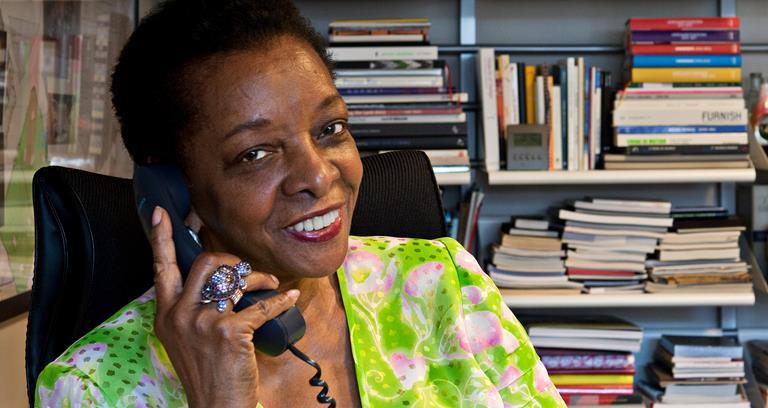 Marva Griffin, founder and curator of SaloneSatellite
Photo: Francesco Bolis, courtesy Salone del Mobile
Since founding SaloneSatellite in 1998, Marva Griffin has presided over countless young designers getting their big break with debutant designs and, as Griffin explains is key, boundless creativity and imagination. A yearly fixture at the Salone del Mobile, SaloneSatellite is a crucial vehicle for fledgling talent getting the exposure they deserve.
Has design and furnishing always been a passion of yours?
Yes, since I was a child! I was one of eight children, living in a lovely family home in El Callao, Venezuela, with a flower garden and a patio with avocado and mango trees.
While my sisters were always in the kitchen baking with my mother, I preferred to take care of the house. I loved moving the chairs around, fluffing the cushions and cutting the roses. When I was 10 or 12, I used to go to the only drugstore where you could buy magazines and buy House and Garden with my pocket money.
What is special about Milan for you?
When I arrived in the early 70's everything was there, waiting to be discovered – it was amazing. I call it the "hidden city" because I've lived there for over 40 years and every day I still discover something new. It's not an overwhelming city, like Rome or Florence.
What sparked the creation of SaloneSatellite in the first place?
Twenty years ago there was neither an institution nor a trade fair to assist young designers in presenting their prototypes, a time when they most need to be seen by the producers. Salone del Mobile, learning about this need, asked me to found this event.
How has the design landscape changed in your time curating SaloneSatellite?
There has been an incredible evolution and innovation. New materials, techniques and technology are improving every day – it is difficult for me to anticipate what the future holds, but I am very positive.
What has surprised you the most?
The immense creativity of young designers: for this reason, I am not surprised by the successes that many who have participated in SaloneSatellite experience.
What do you feel is a key contributor to innovation – where does it come from?
Imagination: to imagine the things that do not yet exist.
Visit salonemilano.it