Divine by Design
From her Paris studio, Julie Lansom crafts intricate space-age inspired lamps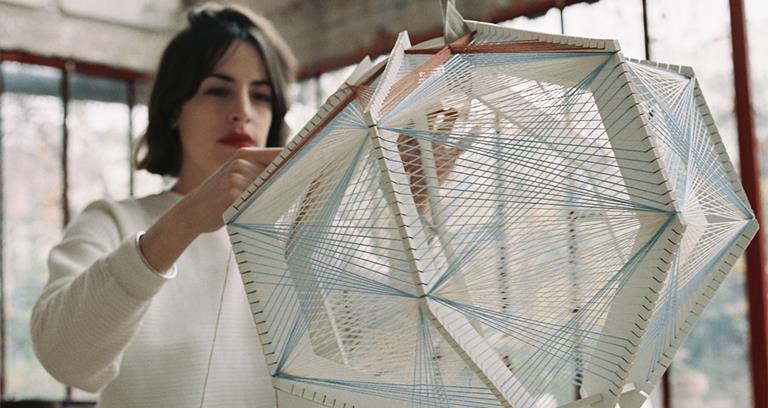 Julie Lansom in her Paris studio
Photo: Amandine Paulandré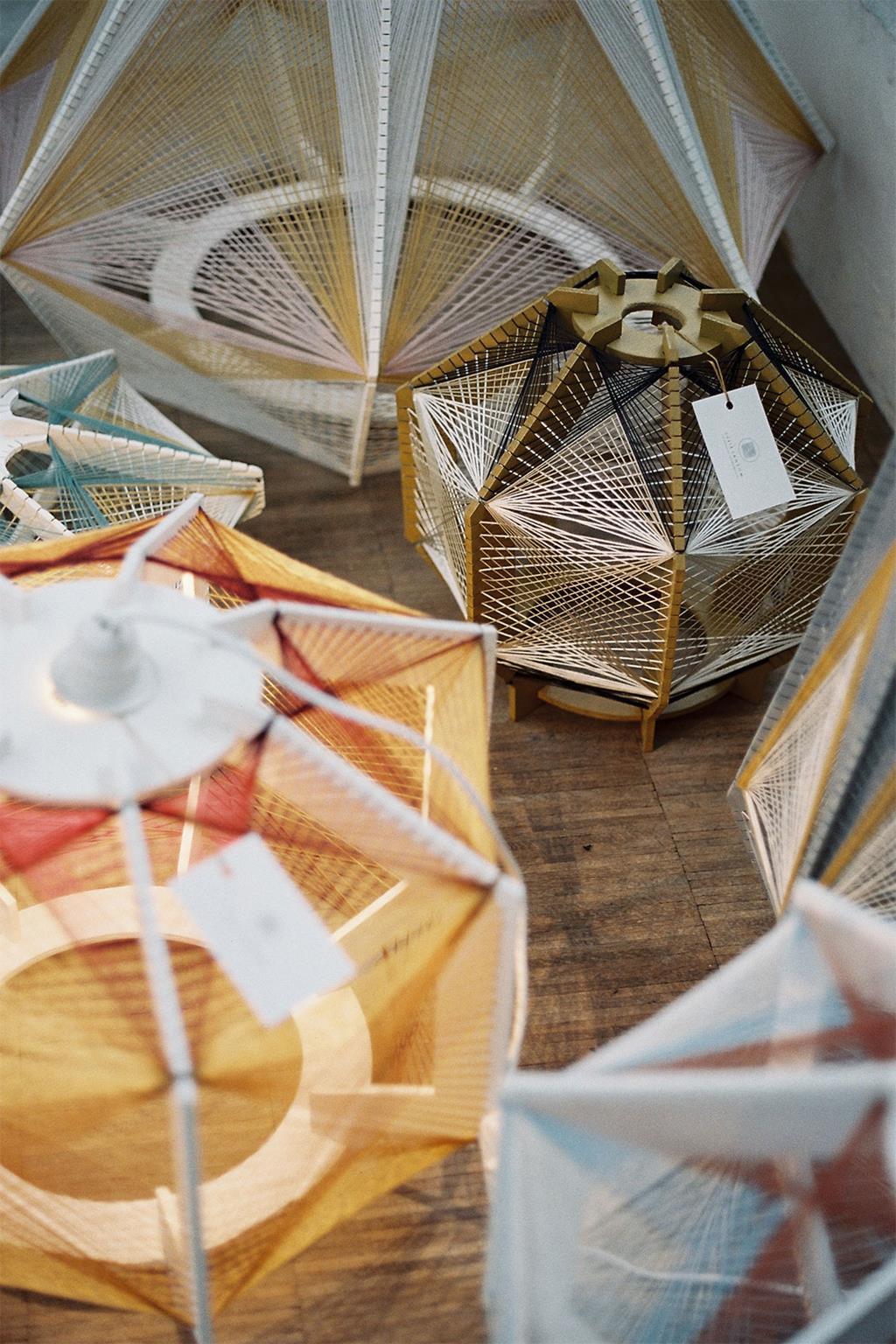 Each of Lansom's Sputnik lamps is handpainted and handwoven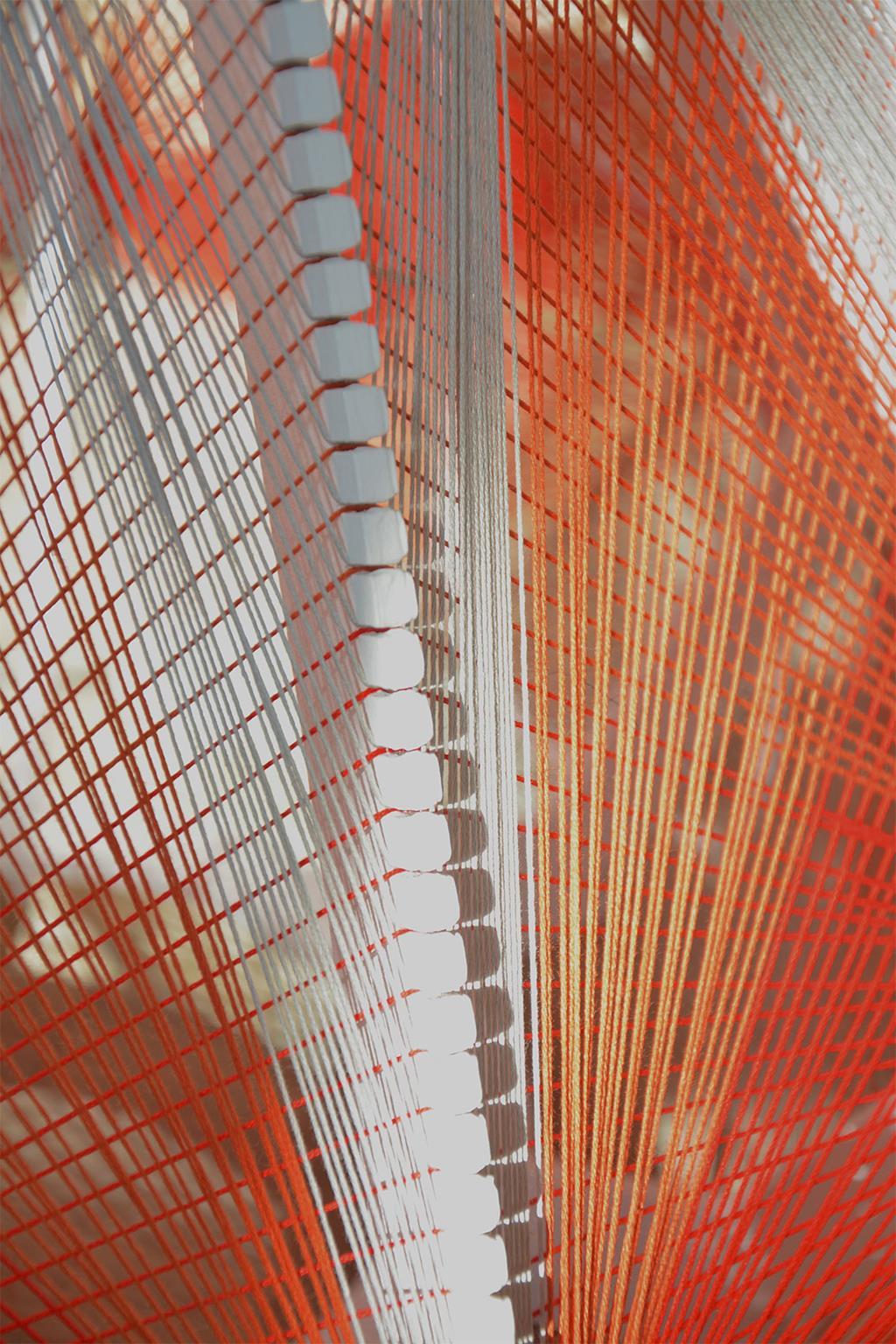 Julie Lansom's Sputnik lamp
Weaving cotton thread through wooden, geometric forms, Julie Lansom works her magic. Her Sputnik lamps, named after the first Russian satellite sent to space, undoubtedly have a thread of nostalgia woven into their colourful designs. Each piece is handcrafted and customisable in structure and colour combination, made on request in Julie's Paris studio.
What was your inspiration behind the Sputnik lamps?
My dad is a art dealer so I spent a lot of time in bric à bracs when I was a kid. I always had a big interest for objects and furniture and could spend hours digging for some treasure.
For the Sputnik lamps, I was inspired by a system of notches that had been used in the 60s for some lamps. But these lamps had bad shapes, bad materials and very sad colours. I've been working on the shapes, the sizes (because my Sputnik lamps are quite big objects) and the colours to modernise that idea. But I do think that inspiration comes from everywhere in the daily life. "Sputnik" was the name given to the first Russian satellite sent into space in the 1960s, its lines similar to those of flying saucers and UFOs. Sputnik lamps are inspired by the retro-futuristic spirit of those ships, coming straight out of science fiction books, and more generally the graphical 1960s and 1970s aesthetics.
I think it's really important to have objects that mean something, that have a soul.
Julie Lansom, Designer

What is your work process like when designing and handcrafting your lamps?

It's taking me a lot of time to build each lamp. I have to design the structure, then I paint it and start weaving them. It takes a few hours to weave the smallest ones and a lot of hours to weave the big ones! But I have always loved making things with my hands and really taking the time to make things. It's very relaxing for me. I think it is really important to have objects that mean something, that have a soul.

 

What textures, fabrics and materials do you work with?

I need the structure to be quite thin and light and it is very difficult to do that when you use real wood, that is fragile, moves in time, etc. I also want my lamps to have quite affordable prices so I am using a composite wood that I then paint. The threads are made of cotton, which are very resistant and have beautiful colours. The colours are really important to me so I have been looking for the right threads for a long time! I am also trying to work with other material at the moment, like birch veneer for a collection of tables that I'm developing: the candle tables.

 

Is there a piece you are most proud of?

I love every piece I work on. When working on orders, there is a real discussion about the colours and the shapes with my clients so that we can make the perfect baby that we both really love! I am proud of each of them.