The Tale of Tignanello
Having revolutionised Italian (and world) viticulture, the first Super Tuscan marks its 40th anniversary this year. Its creator, Piero Antinori, reflects on the combination of serendipity and striving that brought it about
"A good winemaker and his vineyard will always find each other," Piero Antinori writes early on in his autobiography, The Hills of Chianti, which comes out this month in English to mark the 40th anniversary of Tignanello, the wine that many critics have called the most influential Italian wine ever made. It was the first Super Tuscan, the one that began the resurrection of Chianti, and it was the visionary venture that would cement Antinori's place in the annals of viticulture, leading to his 1986 designation as Decanter's Man of the Year, the first Italian winemaker to earn the title. 
Today, at 76, the Marchese – that's how he's addressed – is whippet-slim and elegant in a shadow-striped shirt counterpointed by a small display of what Italians call sprezzatura (or effortless style), a casually knotted electric blue tie with the tail slightly longer than the front. He has a deep, gravelly, almost buzzy voice, deep-set eyes under banker-grey brows and an appraising reserve, although he warms once he's comfortable with you. His ducal modesty is convincing – when he says, "I'm still surprised," referring to the impact Tignanello has had over the past decades, it's genuine. 
Like a Napoleonic general, Antinori met his gilded future at an obscure place. Tignanello is a glorious spread-cape of steeply sloping terrain about 65 kilometres south of Florence, "a place that was made for wine," he says. The soil is a near perfect stony mix, the vineyard faces southeast, and at 365 metres above sea level there's an ideal mix of heat and cool to balance the grapes. The mystery is why the vineyard was overlooked for so long, given that the land had been in the family since 1900.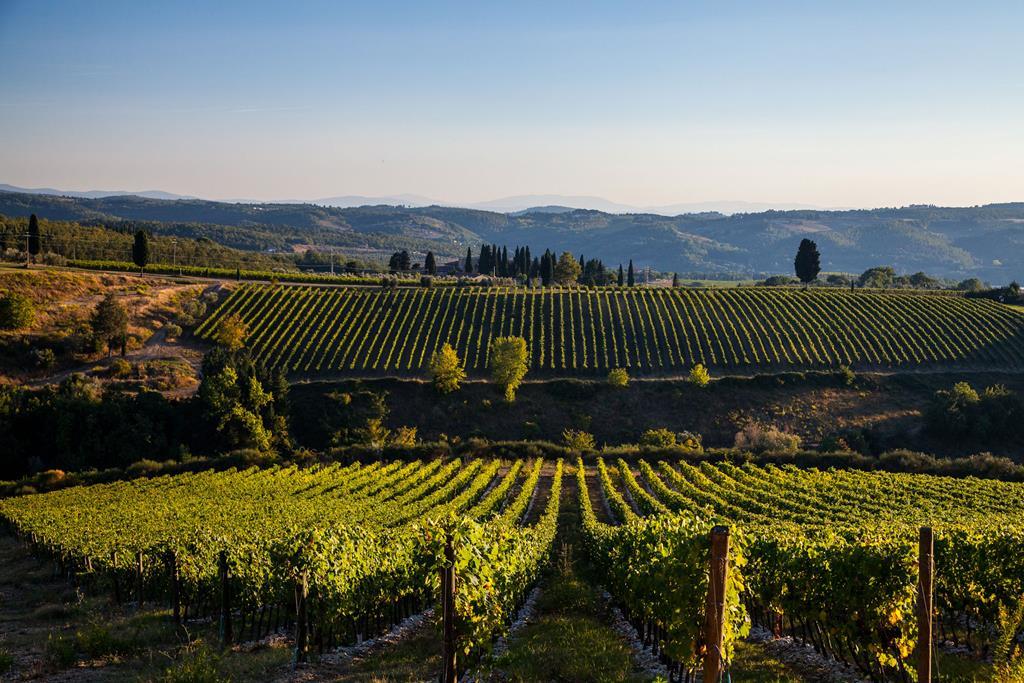 When the 1971 vintage was first released in 1974, Tignanello was an outlaw, a wine that thumbed its nose at the official recipe for Chianti, but made by a man who was a reluctant iconoclast. Antinori didn't set out to topple the temple – in person and in the autobiography he makes it clear that Tignanello was born out of despair at the future of Chianti. Even before he became head of the house of Antinori, he thought that "the Chianti that went into the bottle was thin, watery and without structure. It was born pale and tired and incapable of ageing." That is a hand grenade coming from the crown prince of a family that had made the wine for almost 600 years.
Antinori is destiny's child: as the eldest son (born 1938), he was slated to take over the then 553-year-old house. But in person and in his wide-angled retrospective, he shows an acute awareness of the role that luck, pluck, history, second chances and even despair played in his rise to one of the most powerful and influential figures in the wine world.
First off, Tignanello is an Italian wine midwived by a Frenchman, the great oenologist Emile Peynaud, whom Antinori happened to meet on a research trip. "With him, everything changed," Antinori writes. Yet even when he and Peynaud had made a trial vintage, the Marchese did a Hamlet act – is it to be or not to be? – fearing that a wine that only qualified as a vino da tavola but cost three times the average Chianti was a prescription for ridicule. 
It's one of many ironies about Tignanello that it was the judgment of a journalist named Luigi Veronelli, among the first to taste the enfant terrible, that pushed the winemaker over the edge. In one of the surprising moments of our interview, he confided, "I think Tignanello wouldn't exist if Veronelli had said no." The journalist also advised him to forget about the whole Chianti Classico bureaucracy – Antinori had already said that it "only certified mediocrity" – and just name the wine after the vineyard. That sounds tame now, but in 1970s Italy, it was like throwing a shoe at the Italian wine officialdom. (Veronelli sagely predicted that Tignanello would become its own appellation.)
The Marchese's life spans an era of seismic change in Chianti, and he offers sharp glimpses of a world that is no more. There's the day that thousands of bottles of his father's first attempt at sparkling wine exploded because the dosage was faulty; the morning in 1944 that the retreating German army machine-gunned thousands of bottles in the cantina in San Casciano; the wine middlemen who in winter wore "showy orange overcoats with fox-fur collars"; and the day that his father offered Lallo, a longtime Antinori employee, a taste of Château Lafite, and the man spat it out saying, "That's not wine." 
In 1964, Antinori witnessed the end of mezzadria, the Italian sharecropper system that for all its economic inequality produced the postcard Tuscan landscape – "a house made of stone and plaster up on a hill, a row of cypress trees, and a barn" – and the introduction of the DOC system. The end of mezzadria led to overplanting and a sprint for production and profit. It convinced the Marchese that he had to colour outside the lines if the House of Antinori were to survive. Hence, Tignanello.
Antinori is a compelling character, infused with an obsession for innovation, exploration and excellence
Antinori is a compelling character because he's a fulcrum, chosen by destiny (and the caution it breeds), but infused with another family characteristic: an almost American obsession with innovation, exploration and excellence. He inherited these traits from his father, Niccoló ("by instinct, a great marketing person," explains the son), a man uncowed by tradition – he discarded the fiasco bottle – and a cockeyed optimist: he saw a "luminous future" for Antinori in the 1930s even though the firm, as he wrote, "possessed neither vines nor even farmland". The Marchese's eldest daughter, Albiera, describes her own father as "an ant", but this paragon of slow-and-steady has a deep impatience with things that are merely good enough, and is powered by an urge to "farsi nuove strade" (take new roads), although he does so with an aristocratic consciousness of place, his family's and his region's. He strives to embody Toscanitá – "Tuscanyness" – in all that he does.  "When I introduce a wine, I introduce my whole world," he says.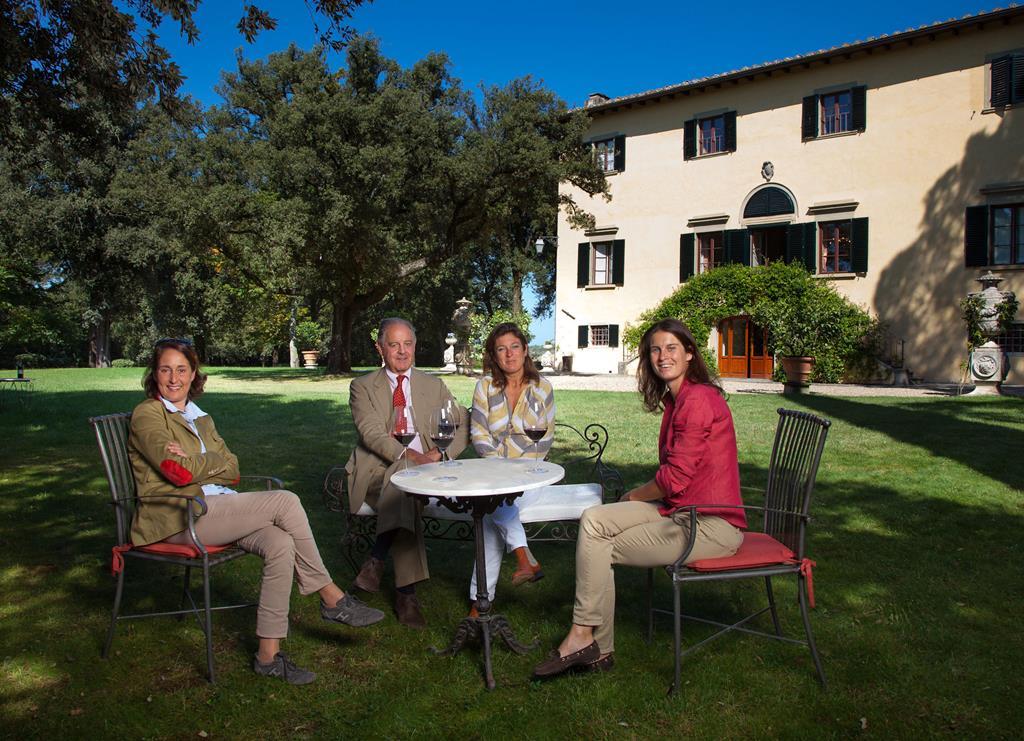 In considering his ten Tuscan holdings, among them some of the region's most prestigious properties (Solaia, Guado al Tasso and Badia a Passignano included), the Marchese displays the satisfaction of a chess master surveying a carefully wrought position. Tuscany is an atlas of Antinori power, and he characterises the Italian holdings as "a green Tuscan heart with a crown of other vineyards from Piedmont to Puglia".
The jewel in the crown is the new €80m winery and company headquarters in Bargino, not far south of Tignanello, where we meet. It is a piece of sculpture, wavy slashes of Cor-Ten steel as the only sign of a 50,000sq m building buried in a hillside. Imagine a CD protruding slightly from the player and you'll get the idea. "The architecture doesn't just occupy the landscape," wrote New York Times architecture critic Michael Kimmelman last year, "it becomes the landscape."
Just before we part, Antinori apologises for the look of the vineyards that compose the roof of the winery. Like most adolescents, they're gangly. Then he directs my attention across the valley to an emerald paunch of pasture. "We are planting that, that and that," he says, gesturing gently. "In ten years this valley will be covered in vines." Farsi nuove strade: he just can't stop. antinori.it